If you need a manicure that makes a statement, look no further than orange French tip nails!
This cute manicure has been making rounds on Instagram, so we thought we should give you a selection of the best styles that will help you find the perfect manicure.
Whether you're heading to your next nail salon appointment or planning to do something at home as a DIY project, with orange French tip nails it's impossible to go wrong – this manicure is pretty easy to achieve at home with a bit of practice, or if you want to book yourself an appointment in the salon, you can go for something more intricate incorporating some custom nail art too!
Why Orange French Tip Nails?
While we all love the classic white French manicure, sometimes you need to freshen things up and give it a little change. Especially with the summer months ahead, you want a nail polish color that compliments your tan and makes your manicure really pop.
Orange is the perfect playful color choice for spring and summer months, it's a color that instantly cheers us up, and with French tip nail design, it doesn't feel too overwhelming.
If you're choosing orange nail polish for your French tips, you have also lots of options to experiment with the design and introduce some new elements that will make the manicure even more interesting – check out our trend suggestions below!
Trending Styles for Orange French Tip Nails
Color Outlines – using a contrasting color like white, hot pink or yellow to create an additional outline for your orange french tips will make them really pop and make the nails look much more interesting
Gradient French Tips – this is a similar take to what you would do with ombre nails, but in this case each nail is painted with a gradient shade of orange, creating an optical gradient look for your manicure.
Arrow Shaped French Tips – painting a sharp arrow shape form of your French tips can help to make your nails look optically much longer than they are
Minimalist or Slim French Tips – these are often used for very short or natural nails, where the tip only has a very slim line or outline to give the nails a little bit of contrast
Contrasting Base Color – the colors used to create this look are lavender, yellow, pink or even white.
Adding Gemstones – if you need to elevate your orange French tips for a special occasion or a party, simply add some gemstones!
Adding Nail Art – make your nails pop with some cute nail art like flowers, sun, or other summer elements
27+ Best Orange French Tip Nails Designs
Here is our curated selection of the best styles we found on Instagram – use them as an inspiration for your next manicure and don't forget to follow us on Pinterest for much more nail design inspiration!
1. Neon Orange French Tip Nails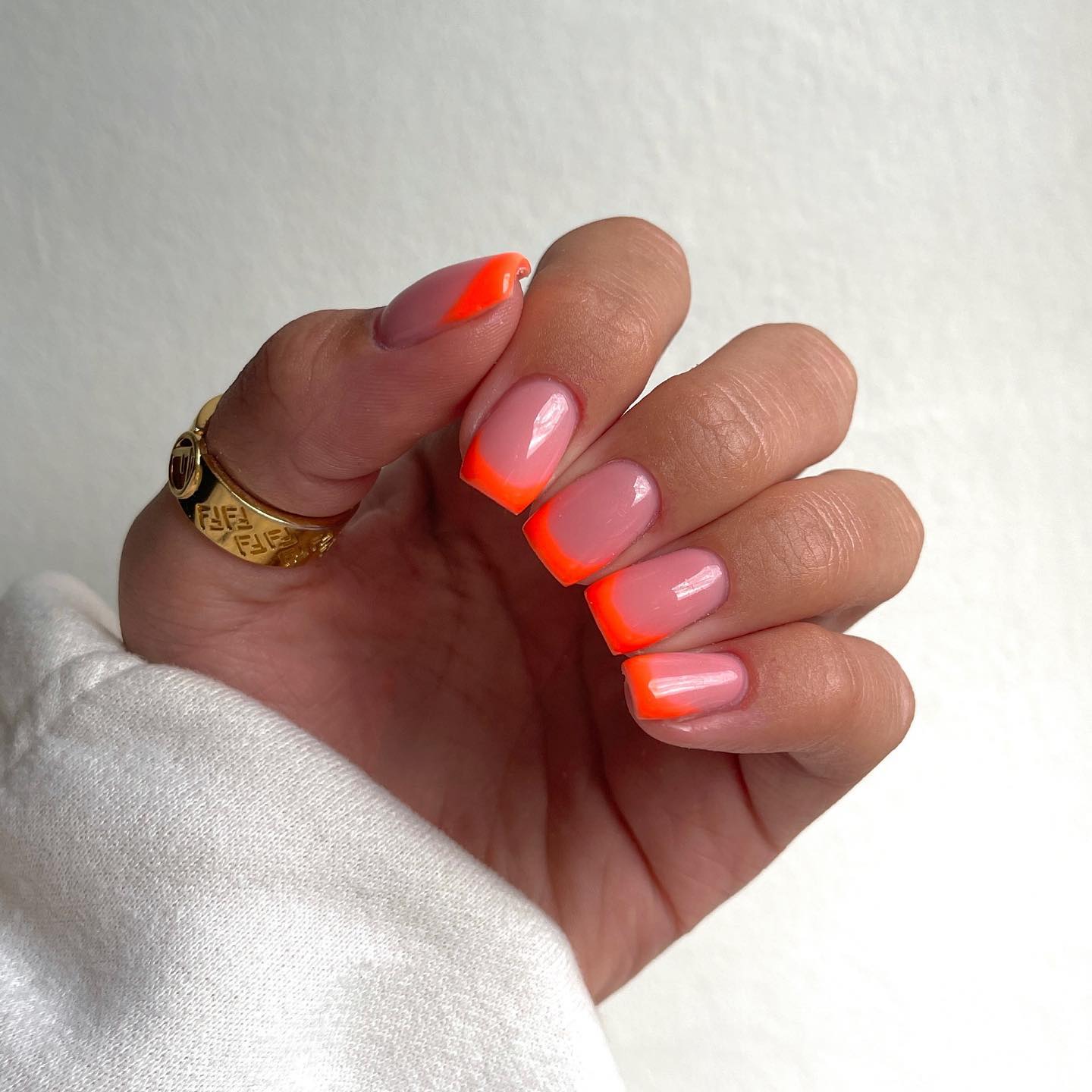 2. Gradient Orange French Nails
3. Super Long Bright Orange French Manicure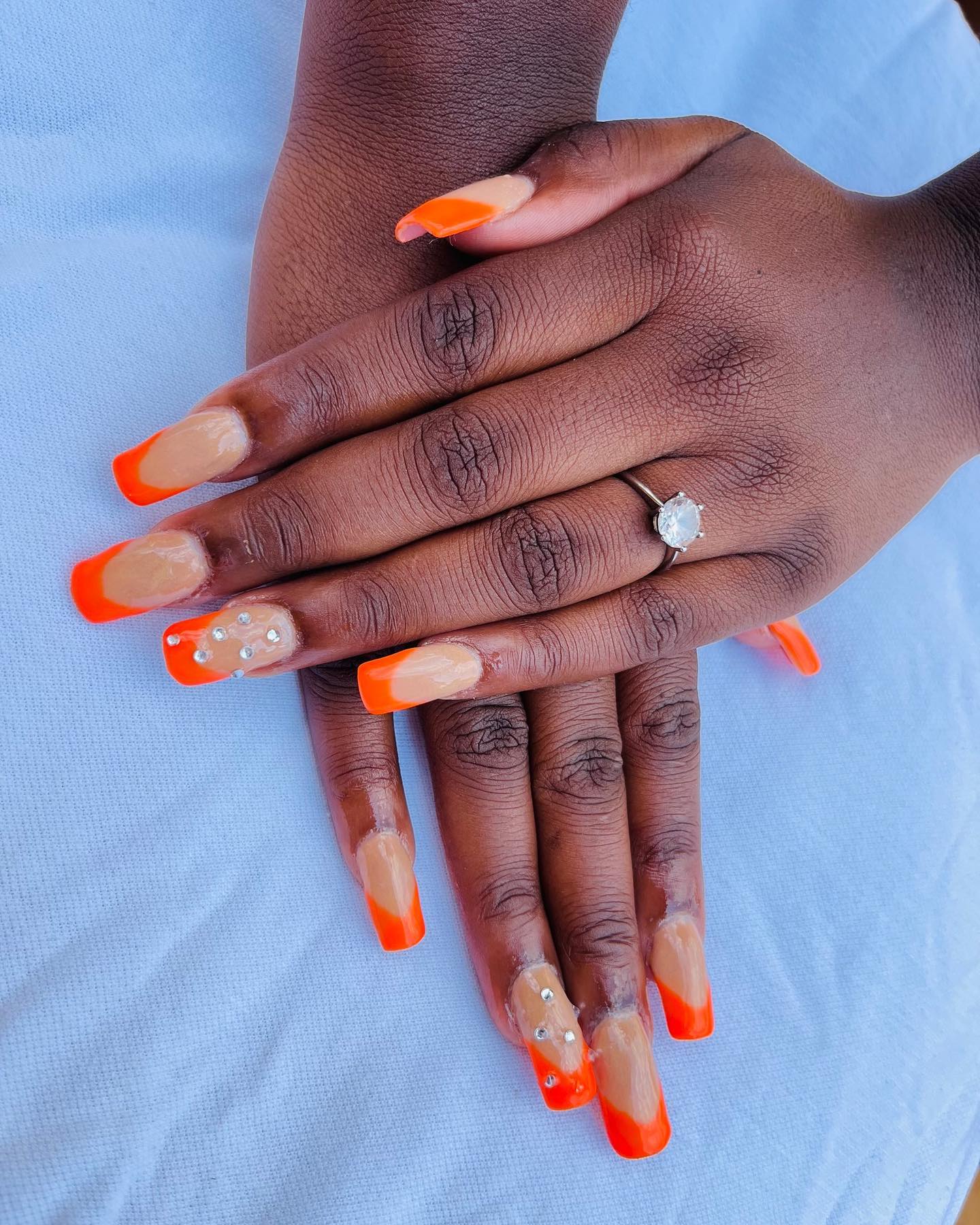 4. Orange Tip Nails with Pink Outline
Next up – orange and pink french tip nails!
These pink and orange french tip nails are so fab!
4. Orange French Tip Nails Short
Who would've thought – purple and orange nails! This french manicure with orange tips is a fave of ours!
5. Orange Tip French Manicure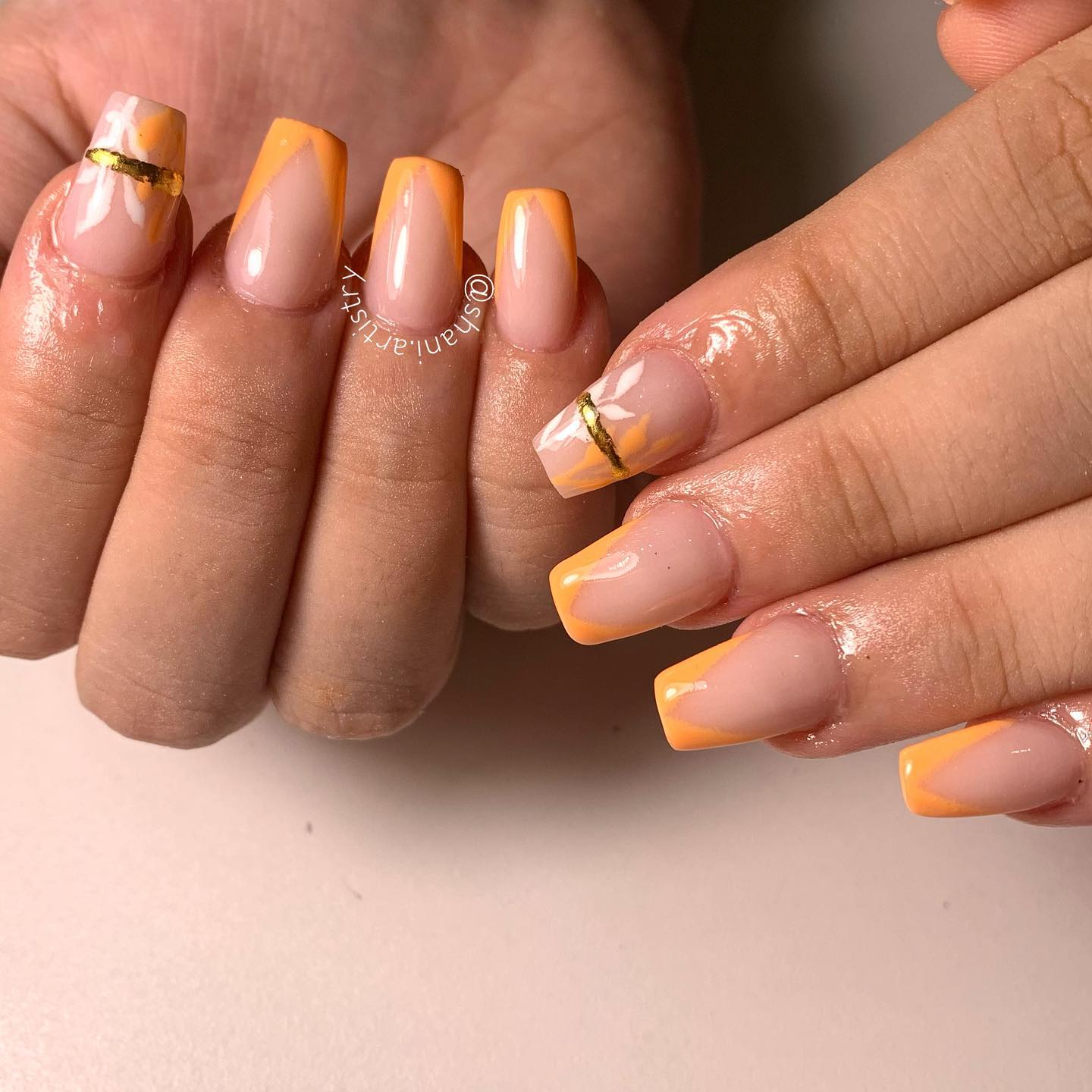 These orange tips nails are giving us the right vibe!
6. French Manicure Orange Splendor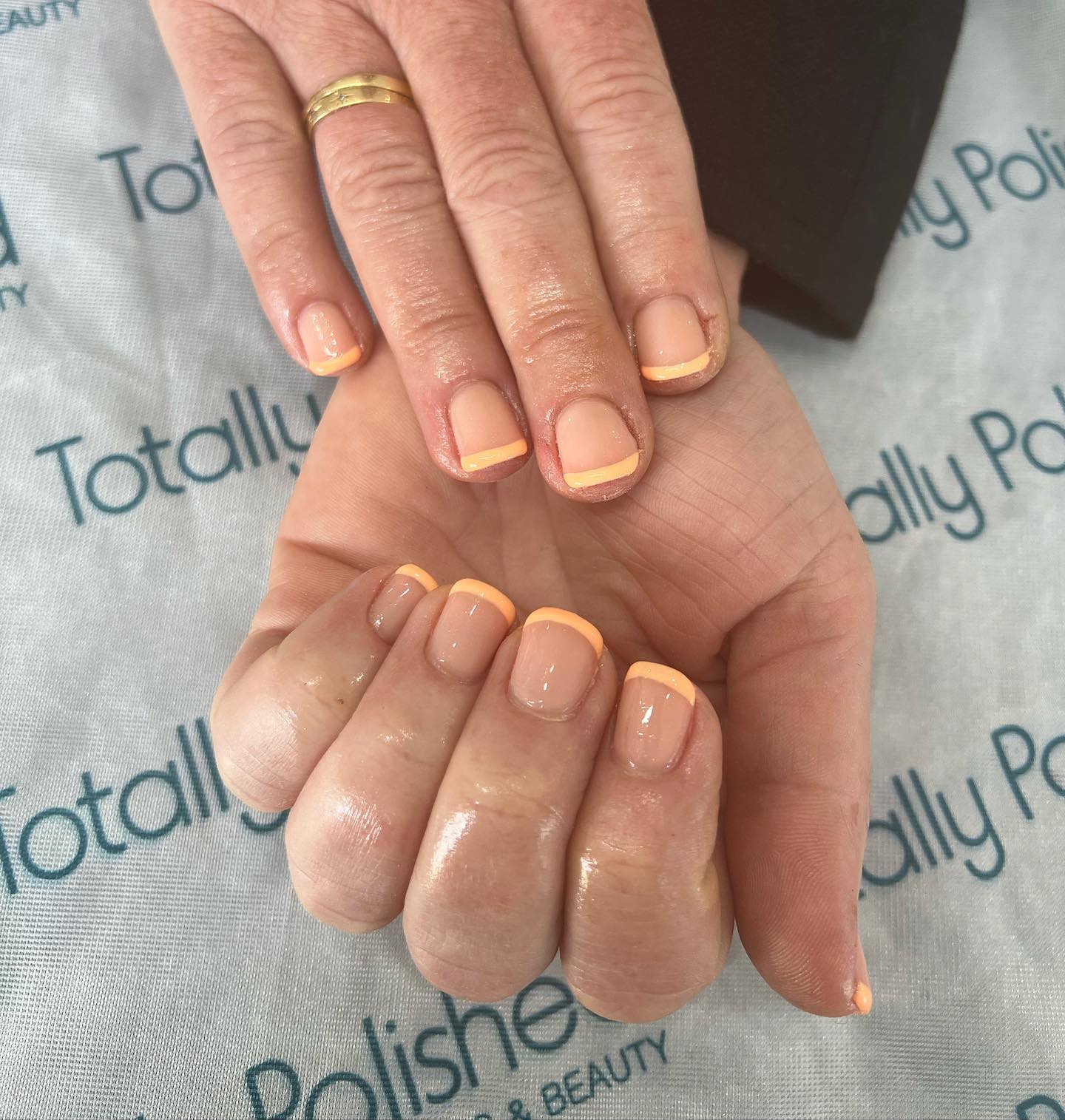 7. French Tips on Acrylic Nails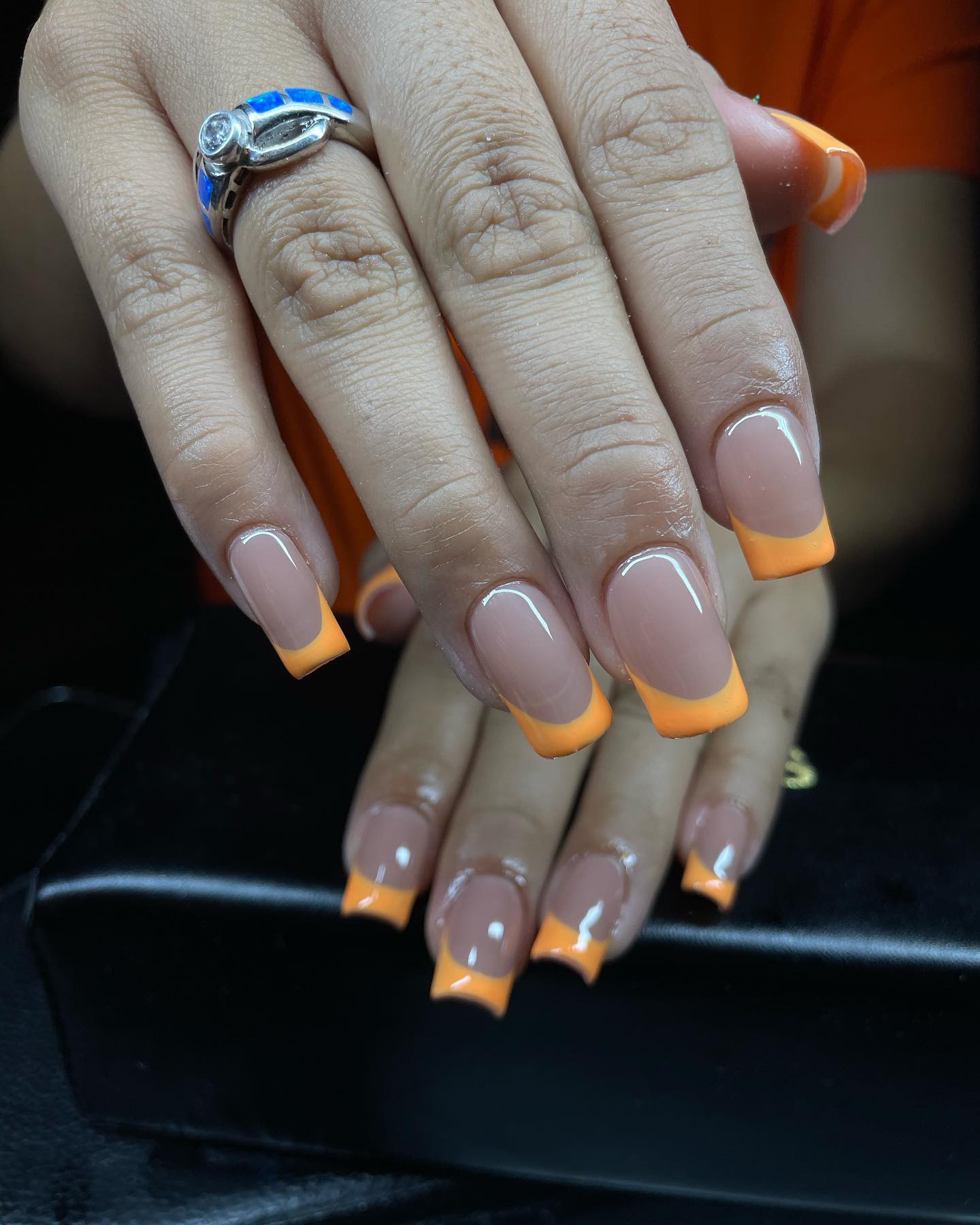 8. Tiger Stripe Orange and Yellow French Tip Nails
Keep scrolling for more orange tip nail designs!
9. French Orange Nails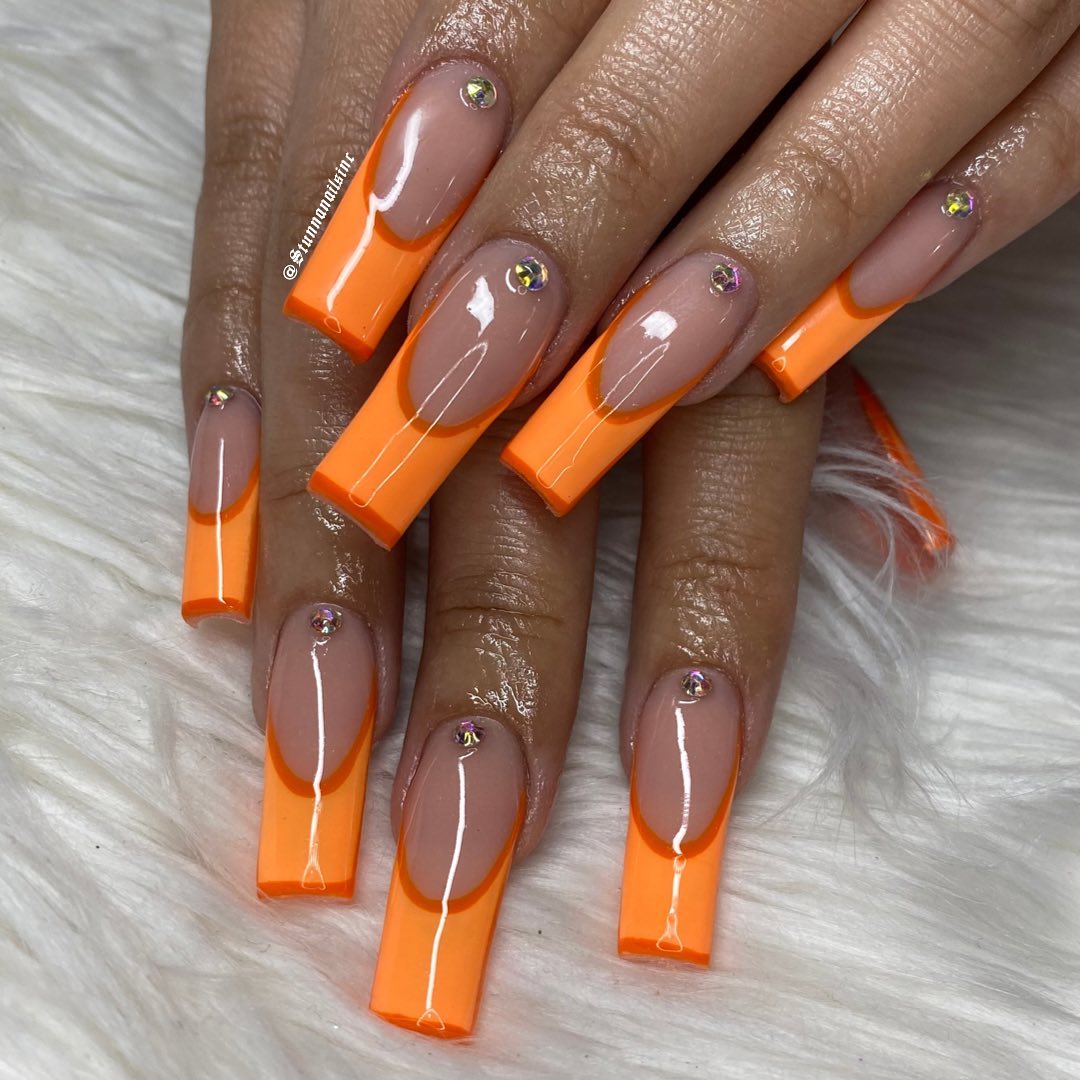 10. Coffin French Manicure Orange Tips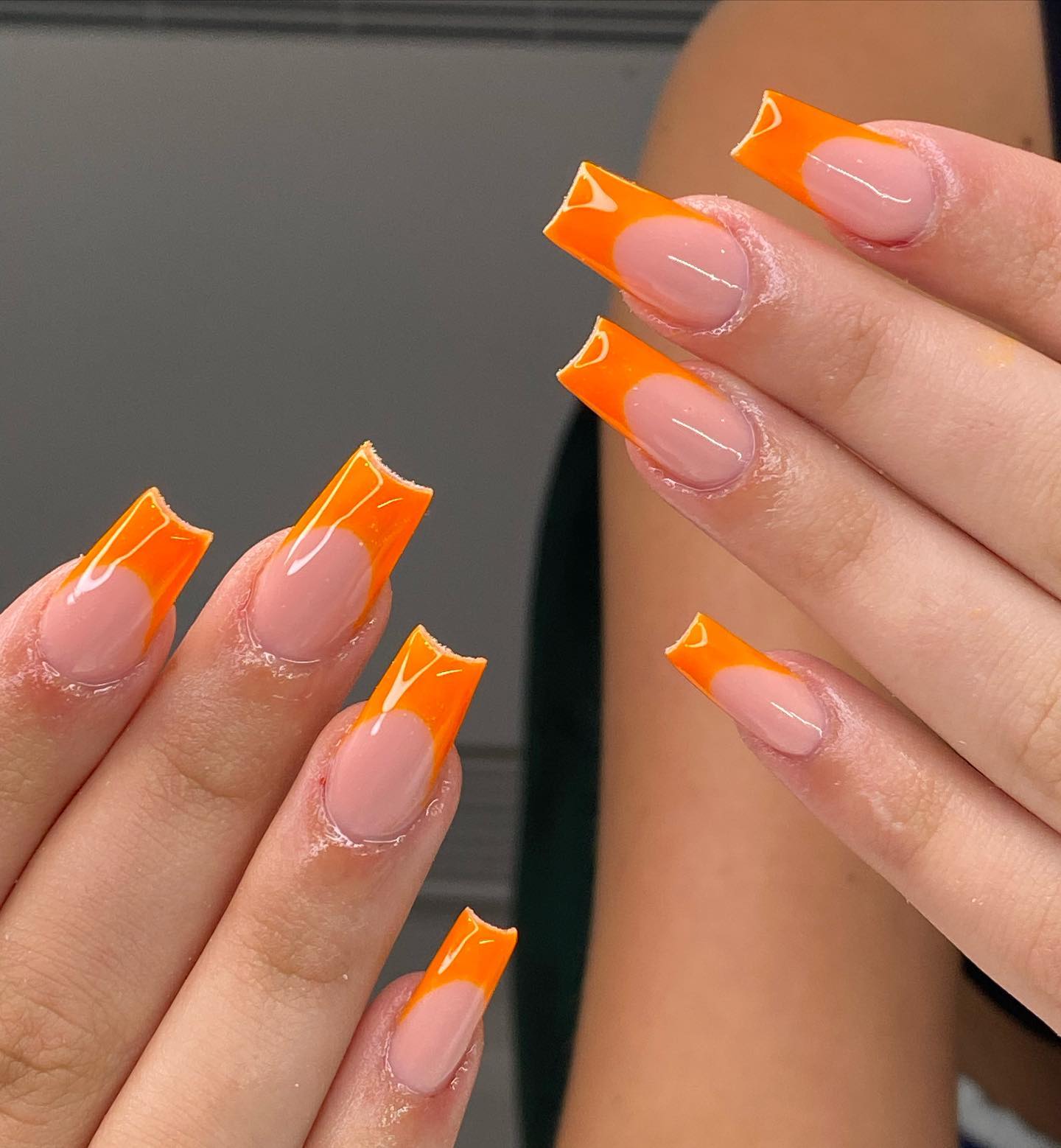 Keep scrolling for more orange french nail designs!
11. Coffin Nails with Light Orange French Tips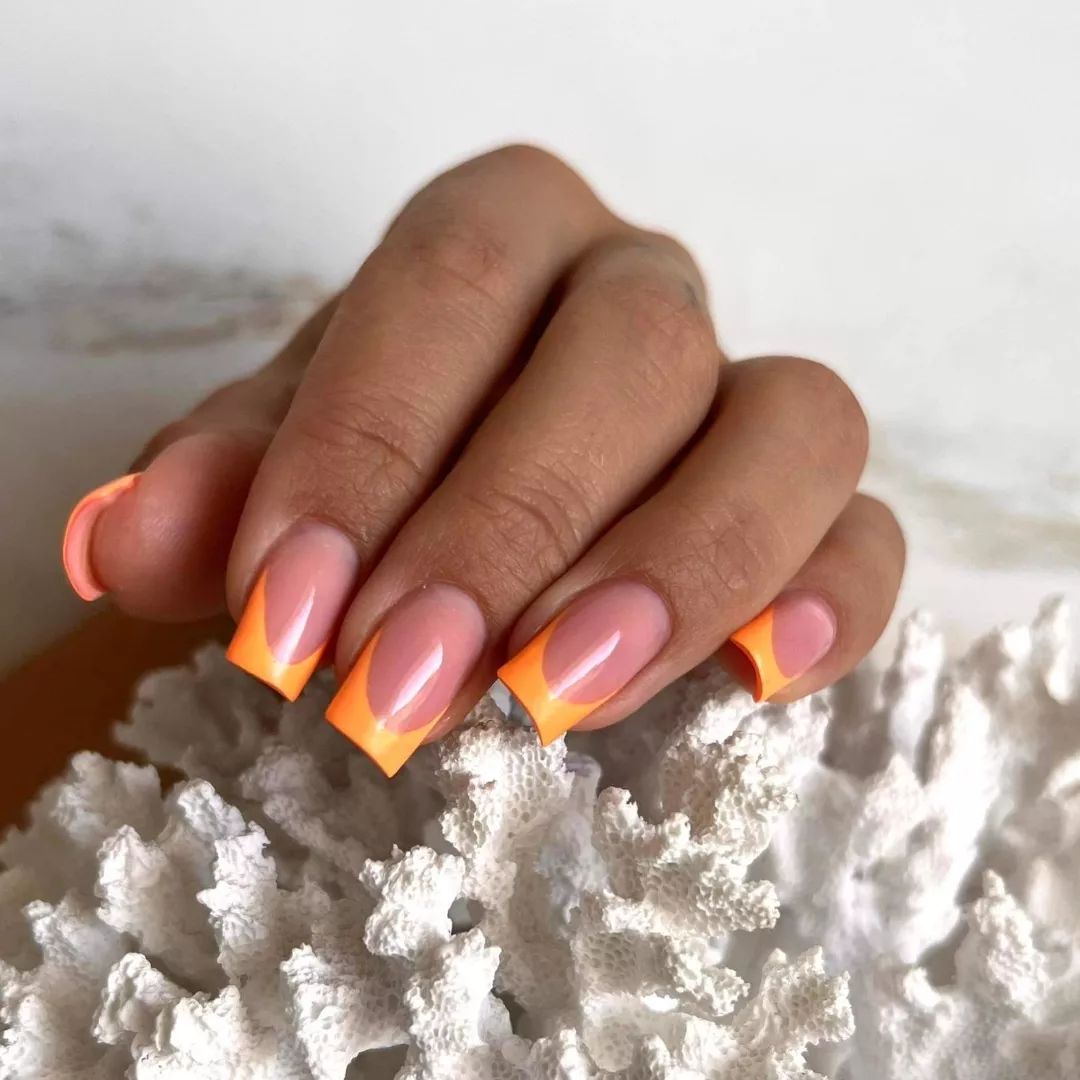 12. Elegant Nails with Orange French Tips
14. Gradient Nails With Orange Tips
French tips orange hues, perfect for adding a pop of color to your style!
15. Dotted Orange Orange French Tip Nails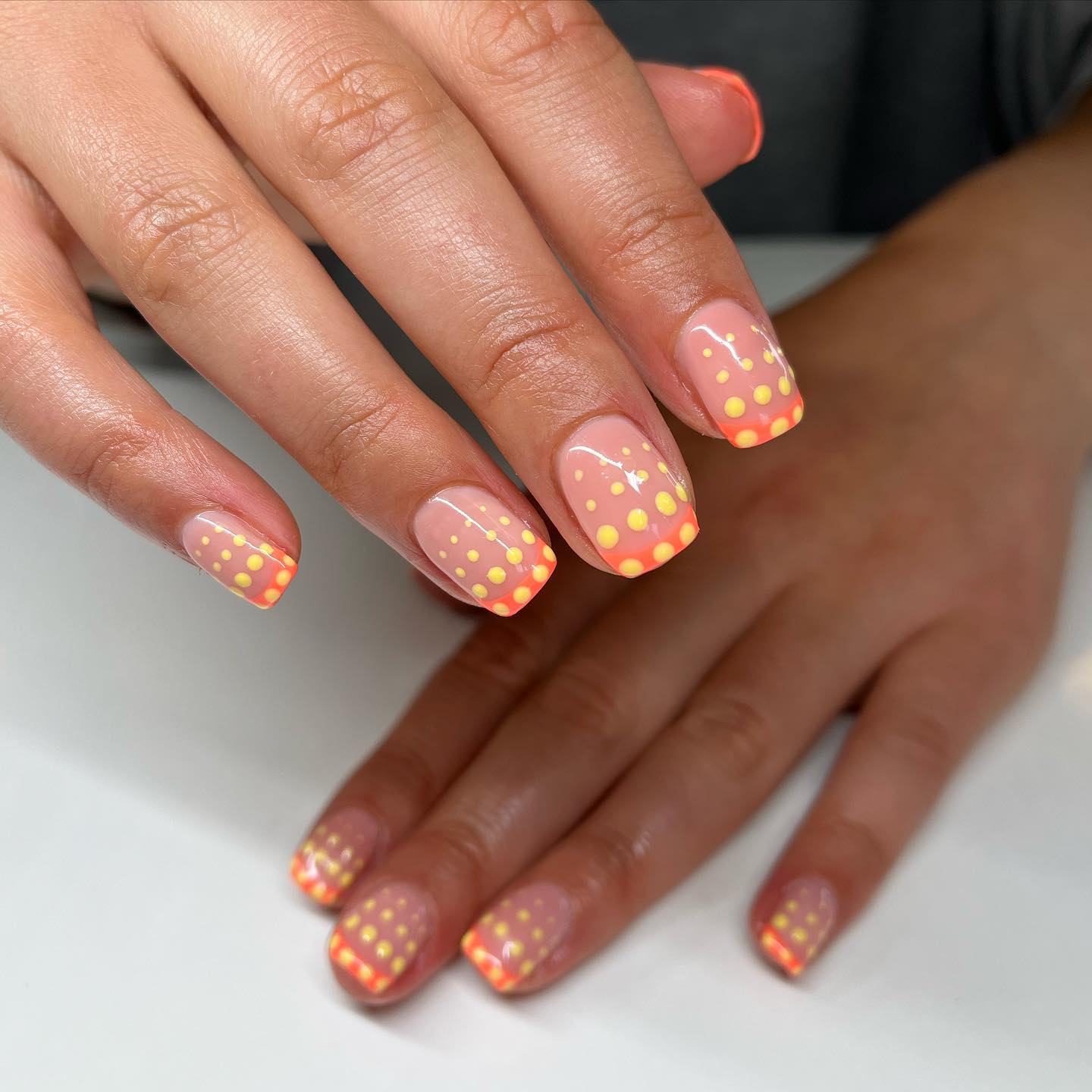 A chic dotted french with orange tips, showcasing a modern twist on a classic style.
16. Almond Shape Orange Orange French Tip Nails
Neon orange tip nails adding a vibrant splash to your style!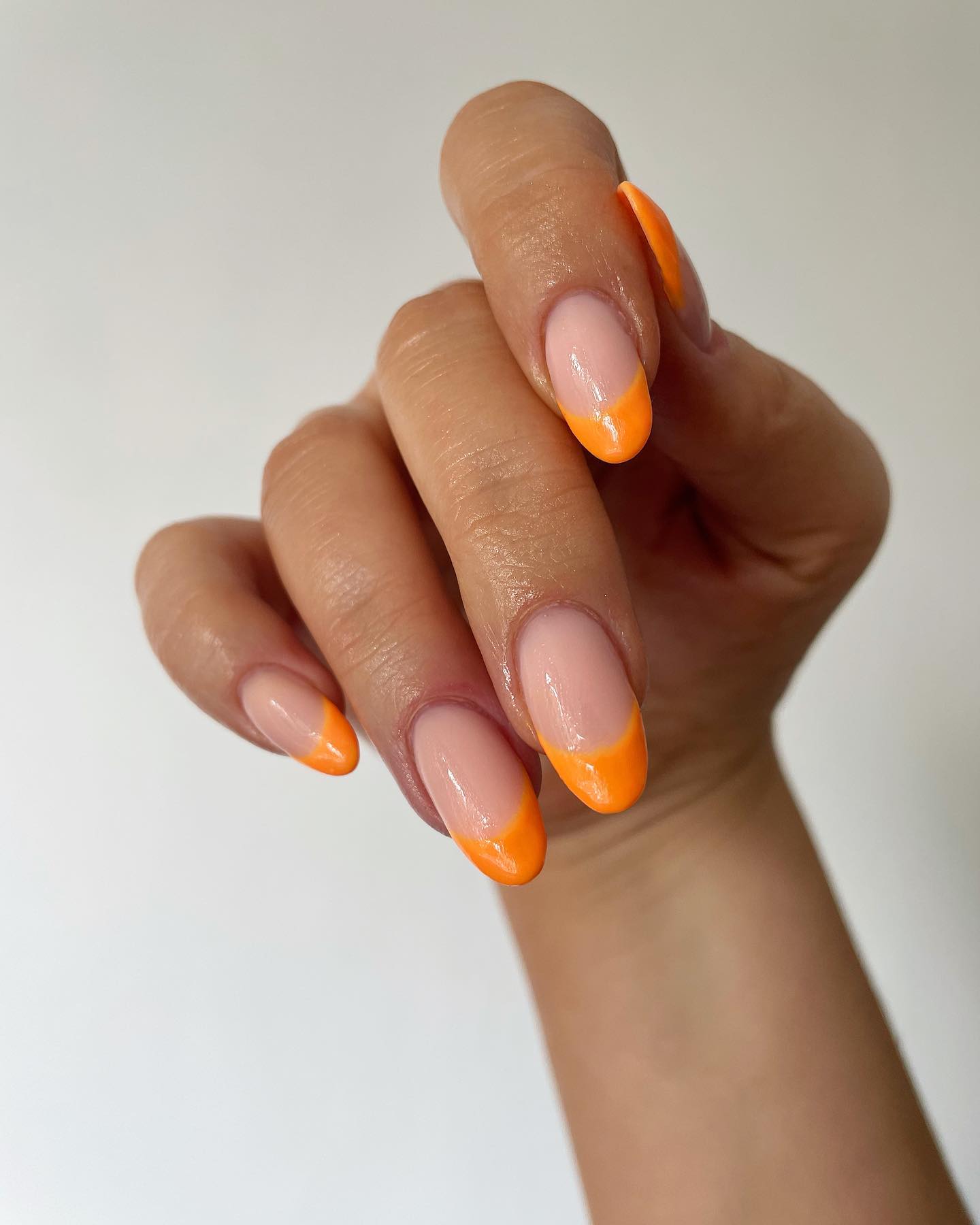 17. Acrylic Bright Orange French Tip Nails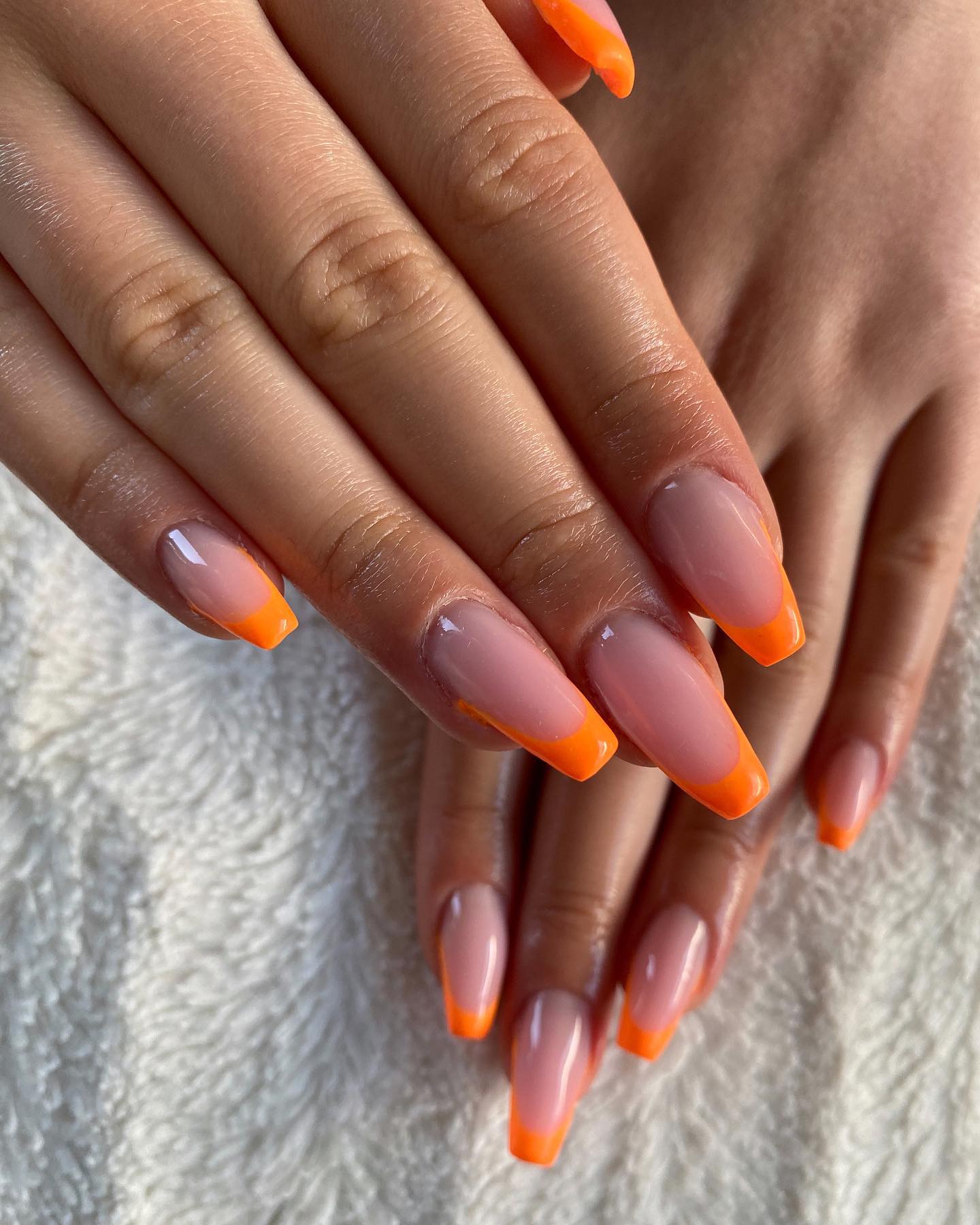 18. White Base with Orange Orange French Tip Nails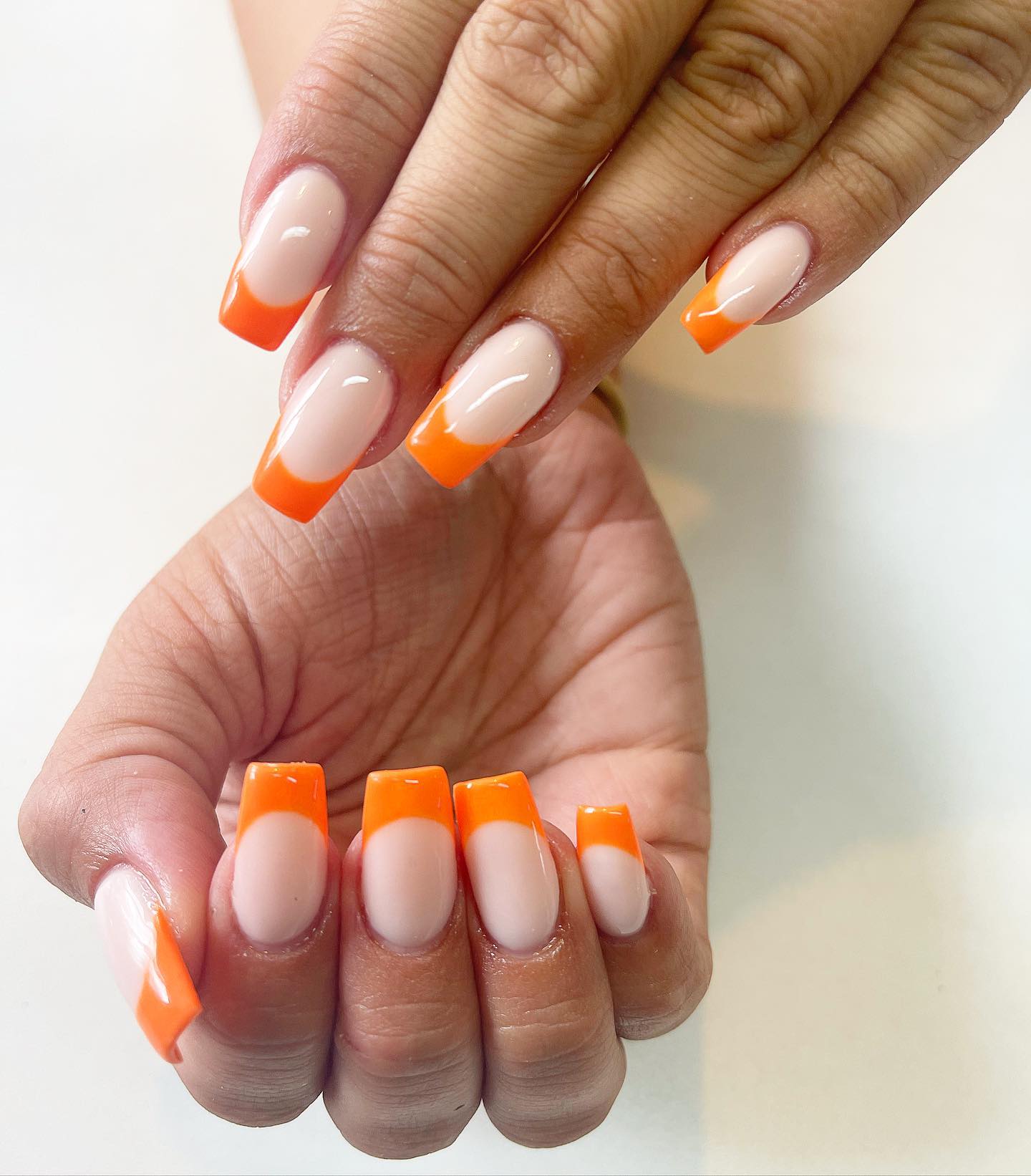 Keep scrolling for more orange french tip nail designs!
18. Orange French Tips with Florals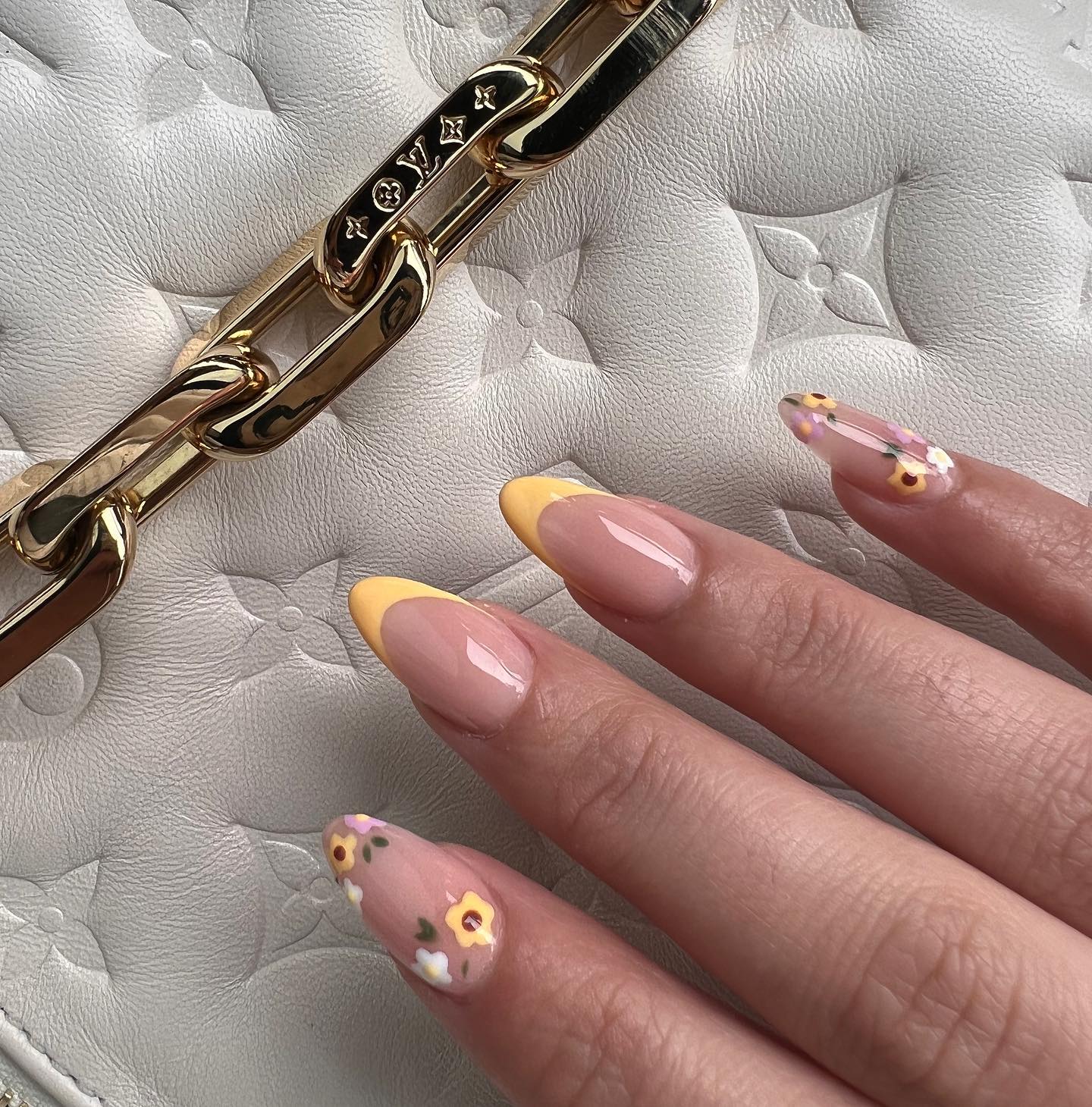 19. Two Tone Orange French Tips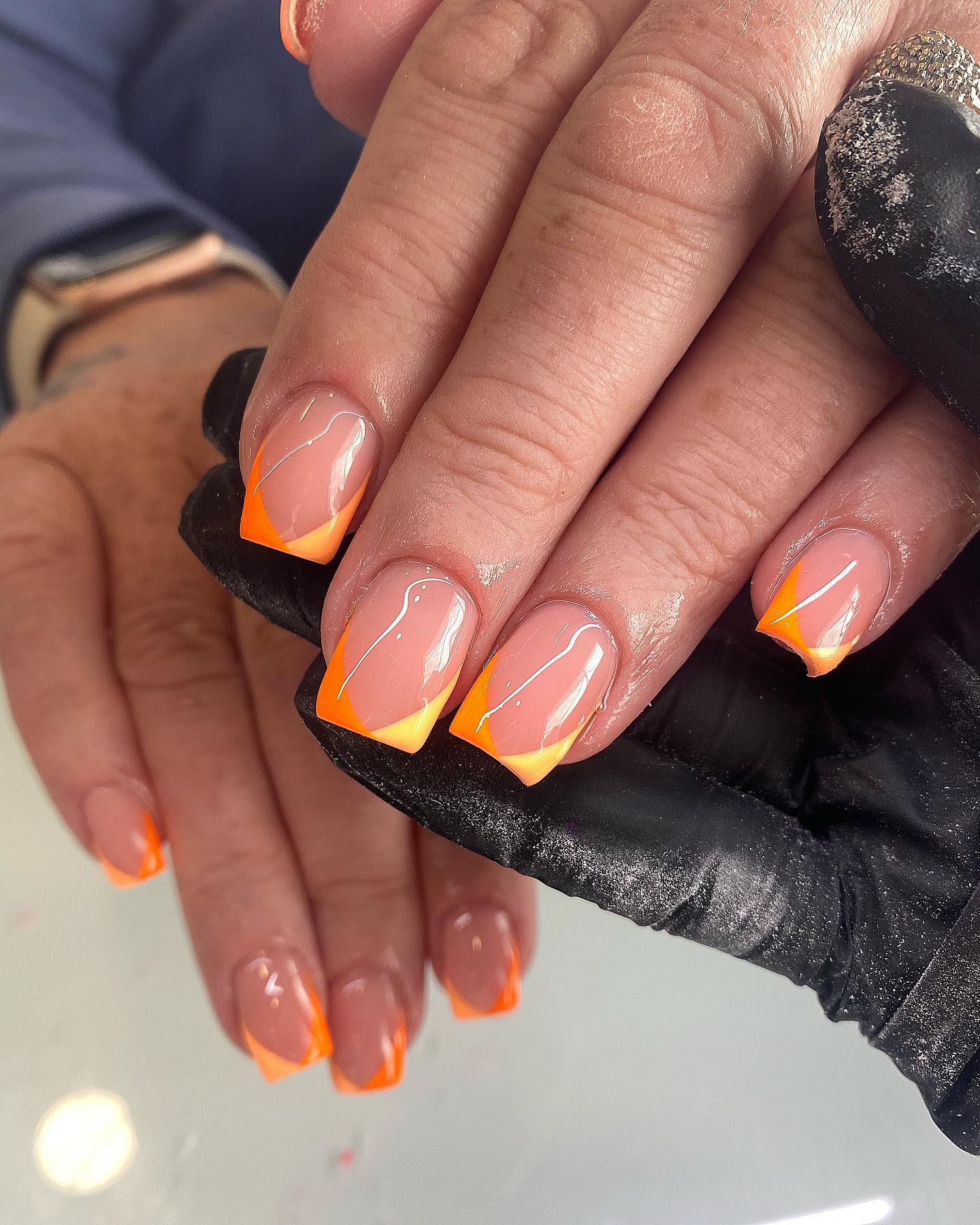 20. Orange French Tip Nails Long Version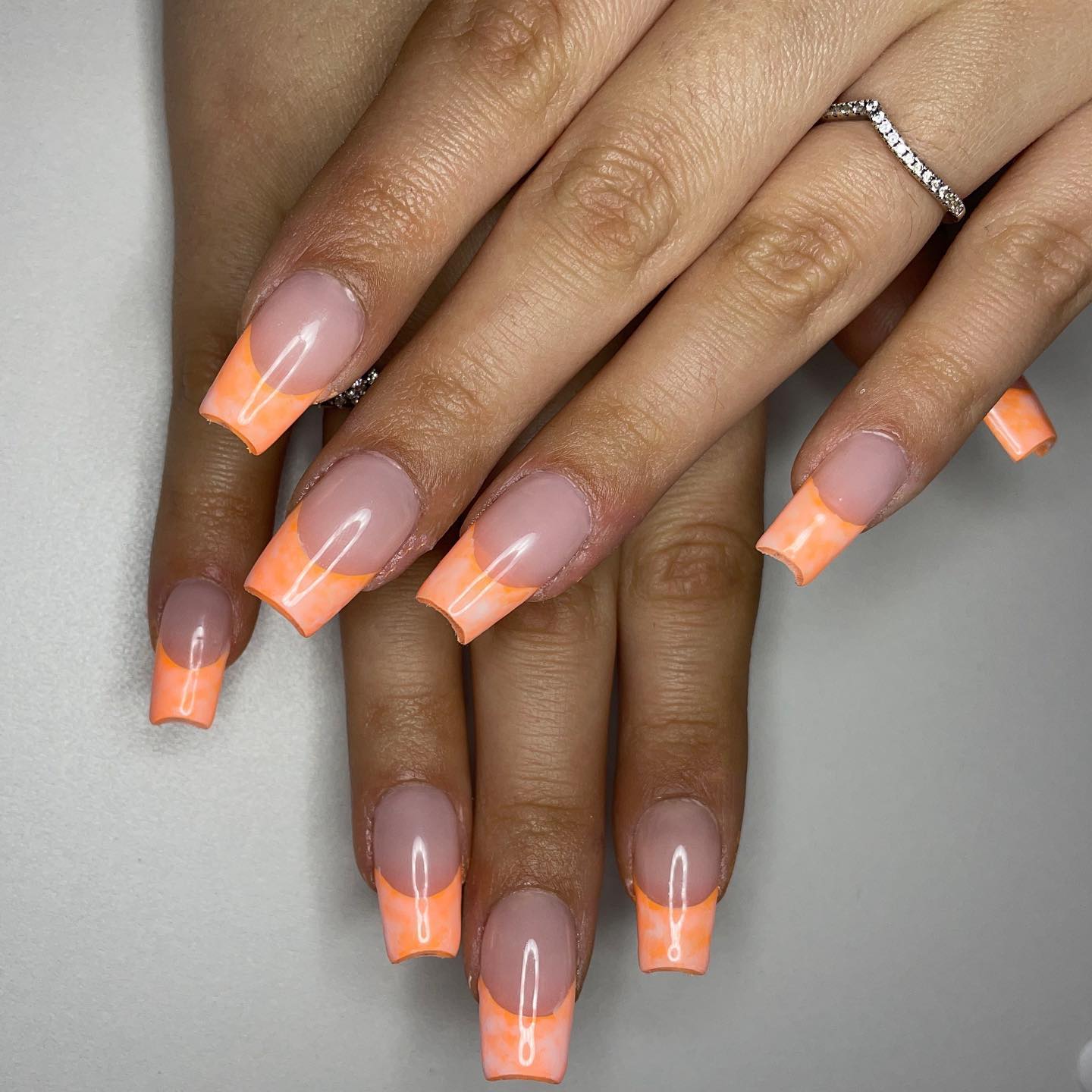 21. White Outline on Orange French Tips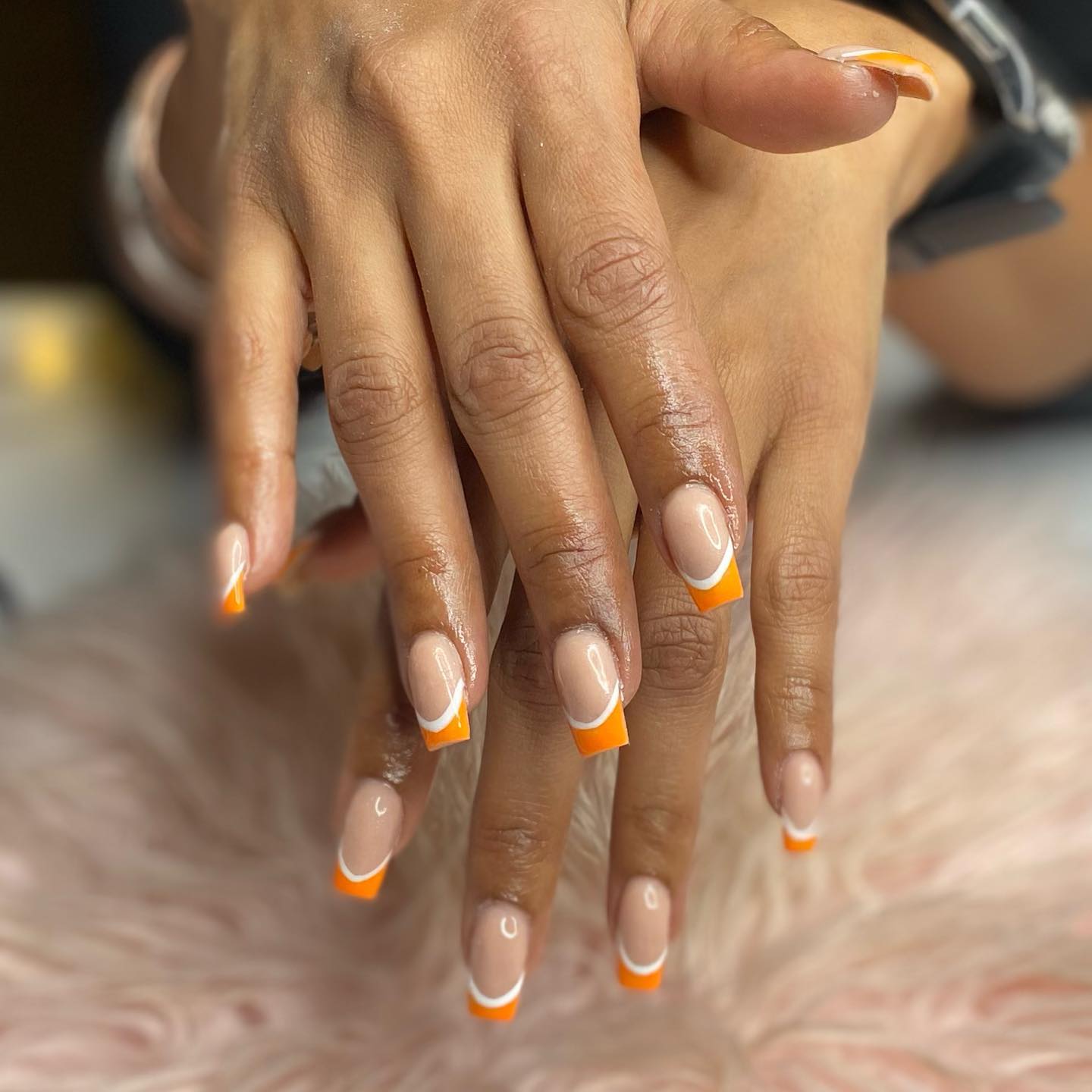 A close-up of trendy orange and white french tip nails, showcasing a fresh and vibrant manicure style.
22. Mixed Design Orange French Tips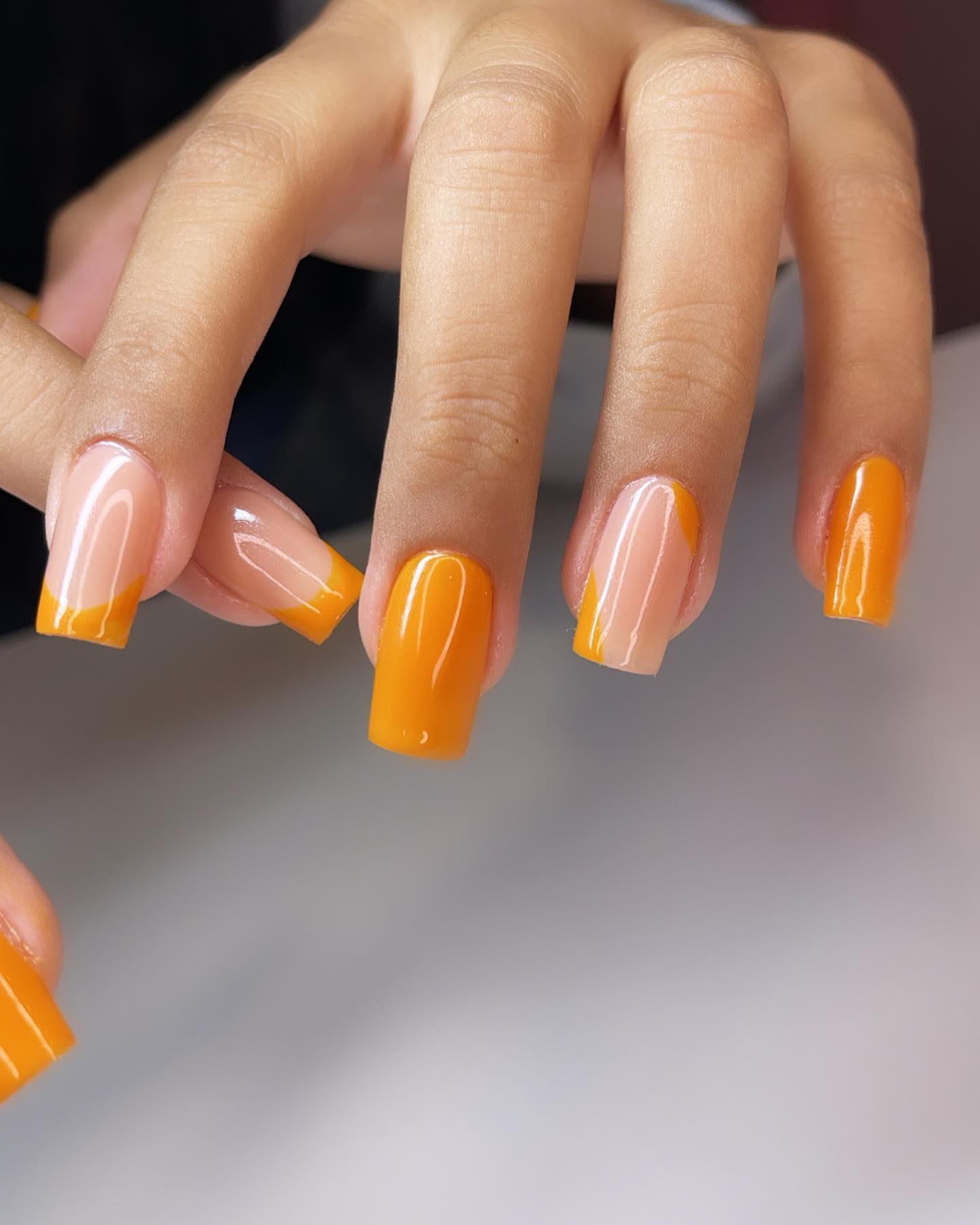 23. Swirls with Orange French Tips
24. Neon Acrylic Orange French Tips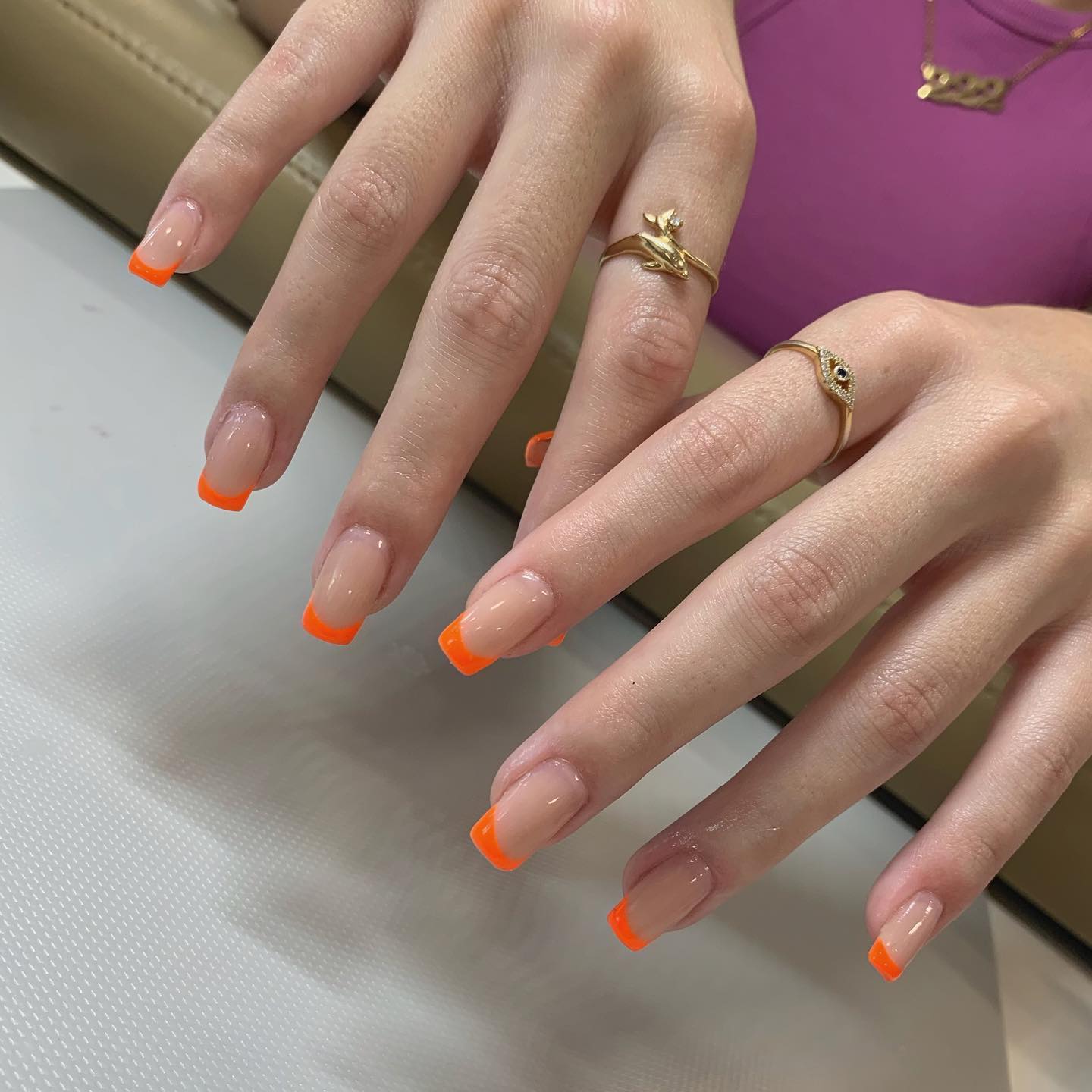 25. Slim French Nails With Orange Tips
Another selection of orange tip nails short version: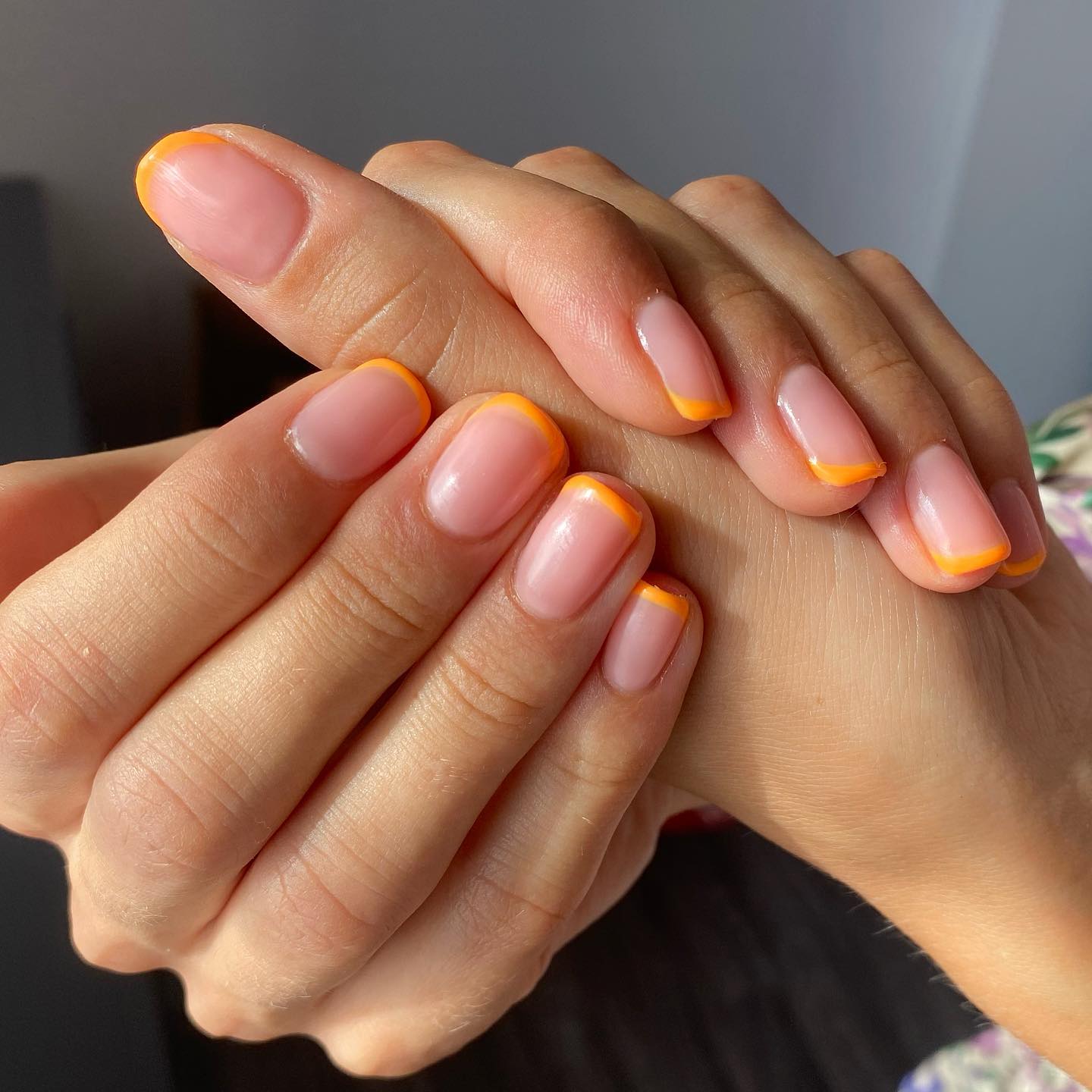 26. Two Tone Neon Pink And Orange French Nails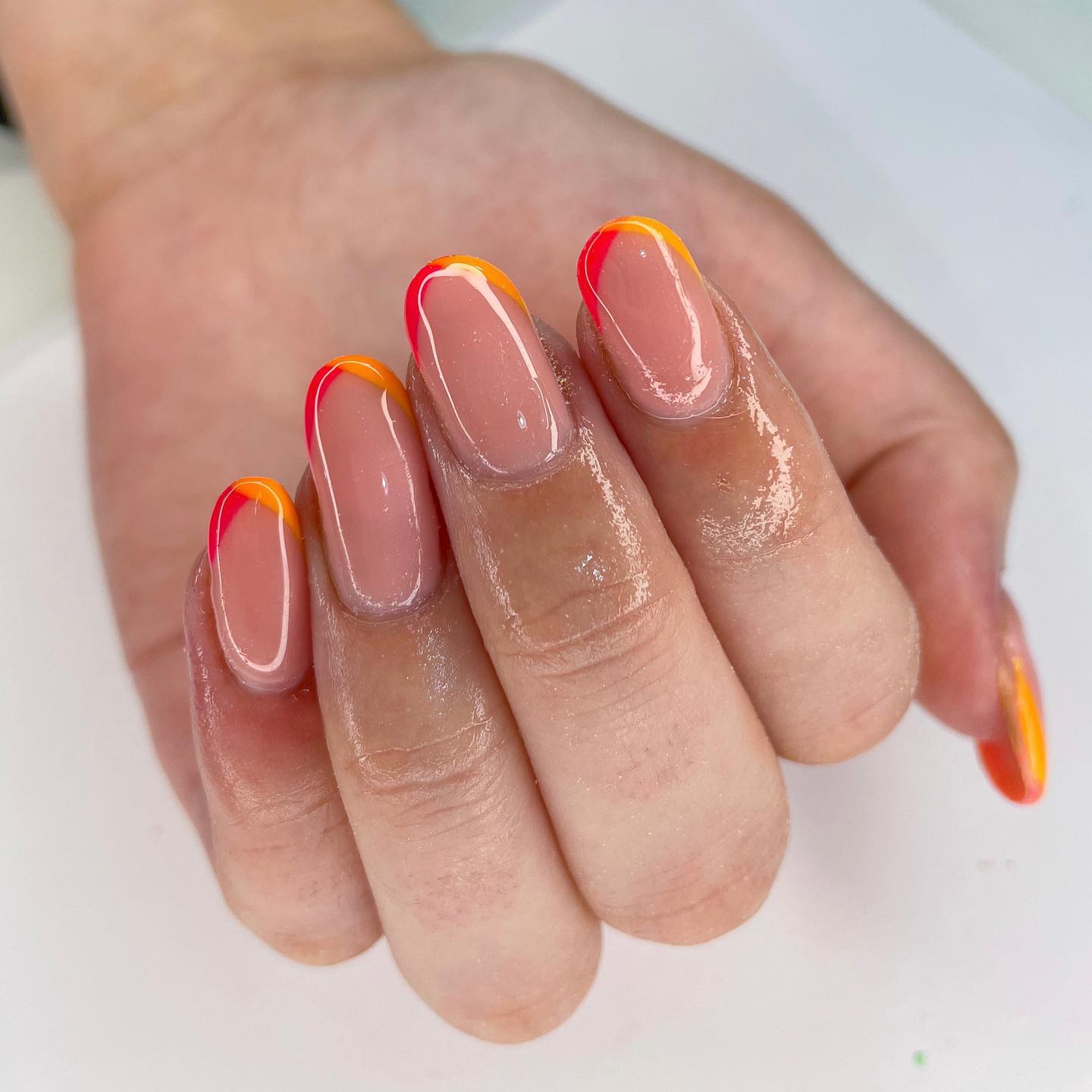 These neon pink and orange french tips are super cool!
27. Side Design Orange French Tips
28. French Tip Orange Nails with Gemstones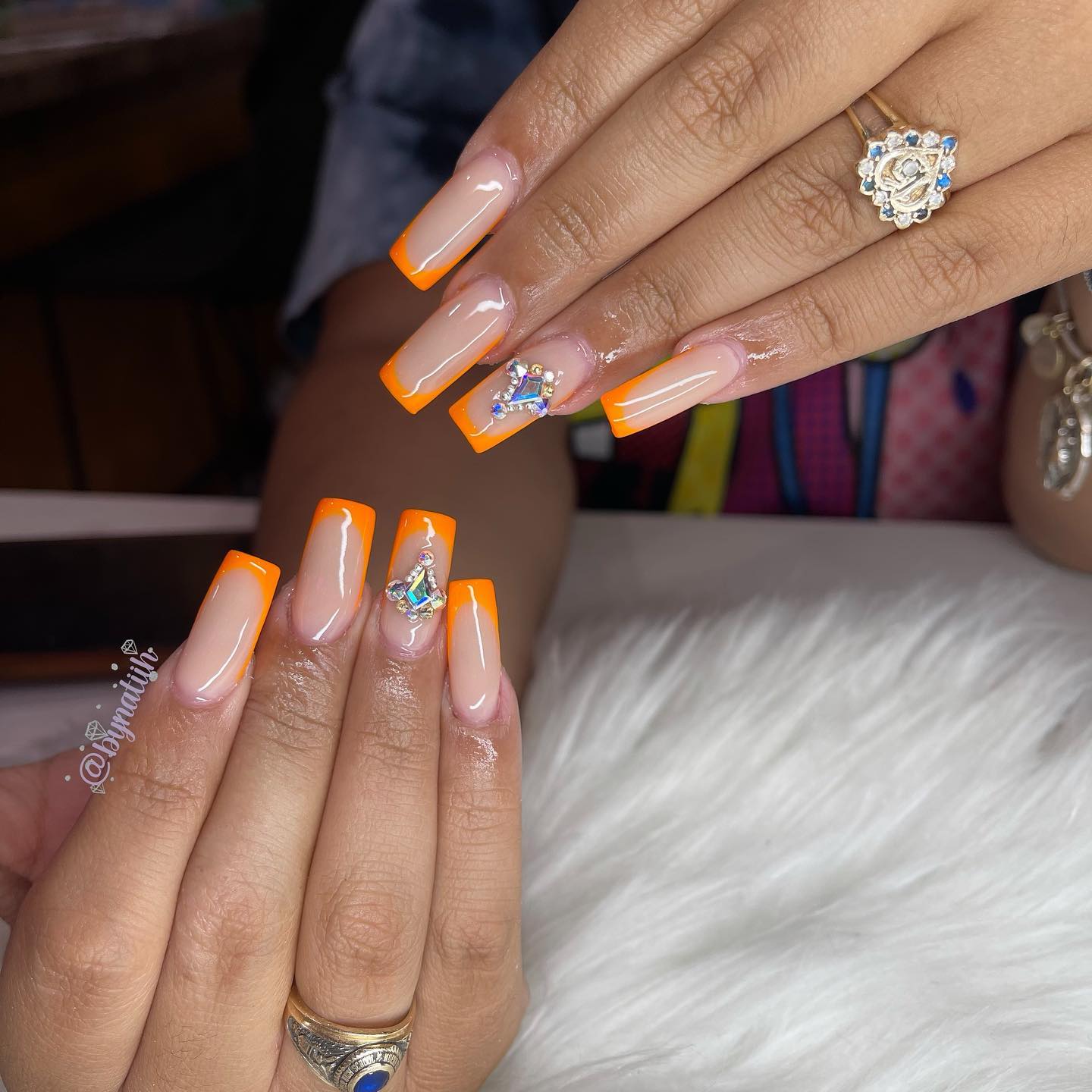 French tip with orange never looked so chic!
29. Orange Tip Manicure Flowers
And here's our last selection – orange nails, french tip: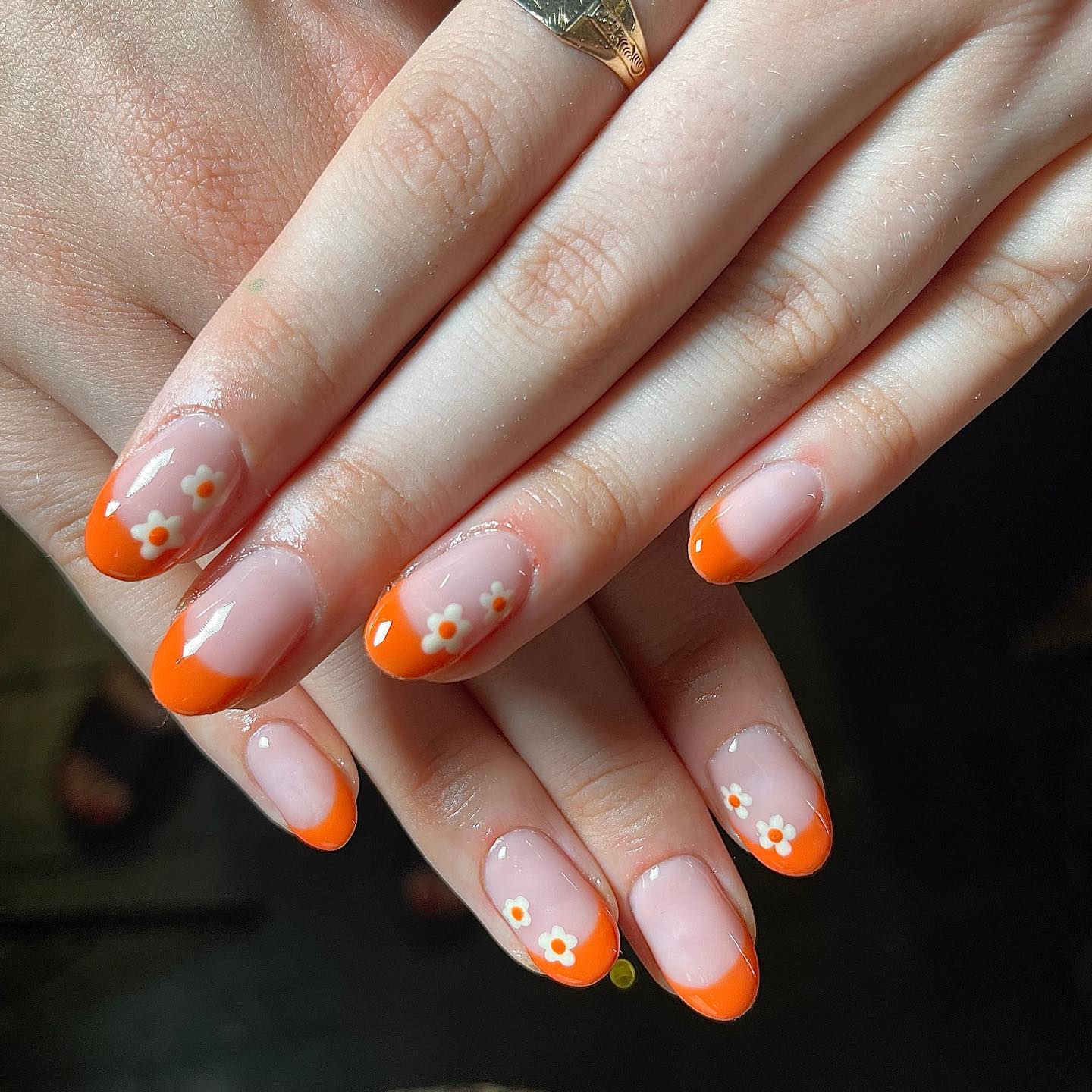 Embrace the warmth of summer with these vibrant summer orange french tip nails, adding a pop of color to your style!