Planning your next manicure update? In that case, you're at the right place!
Our expert team put together a little roundup of the prettiest lavender purple ombre nails to give you plenty of ideas and inspiration for your next nail makeover. Whether you're heading to the nail salon and need some photos for inspiration, or you're looking for some easy alternatives to do at home, you will find lots of options for both cases in this article.
Ombre nails are one of the hottest nail design styles during the whole year, especially in the spring and summer months. They allow you to combine two colors in a seamless way that adds more depth to your nails and helps to optically elongate your nails.
Ombre nails work on any nail shape, but they are especially pleasing on coffin nails, almond shape nails and other longer nails. If you have short nails, fear not! You can still pull it off with the right application of the nail polish color placement.
Why lavender?
Lavender is a pretty color that fits to almost any season, but it is super popular especially in the spring and summer. It may be a surprising choice, but it's one of the top colors for the Easter too! Lavender color is associated with purity, silence, devotion, serenity, grace and calmness.
Whatever the reason you may have for choosing this nail polish color, you're on the right track – all you need to figure out now is the right way to use it and to make your nails stand out from the crowd.
Prettiest Lavender Purple Ombre Nails Ideas
Below is a shortlist of the prettiest nail styles we found on Instagram and Pinterest. To check even more ideas, head over to out Pinterest board over here.
1. Elegant Lavender Purple Ombre Nails
The classic ombre nails with natural beige and lavender, on pretty almond nail shape.
2. Gradient Lavender Purple Nails
Want to do the ombre look at home? The easiest way to achieve great results with zero experience is this gradient approach using five shades of purple and lavender nail polish.
3. White and Lavender Ombre Nails
Add a bit more personality to your ombre nails with some simple dotted nail art.
4. Glitter Lavender Ombre Nails
Perfectly executed smooth transition in this ombre manicure is finished by subtle glitter effect.
5. Dark Purple Lavender Ombre Nails
For nails that will turn heads, opt for dark purple ombre combined with lavender.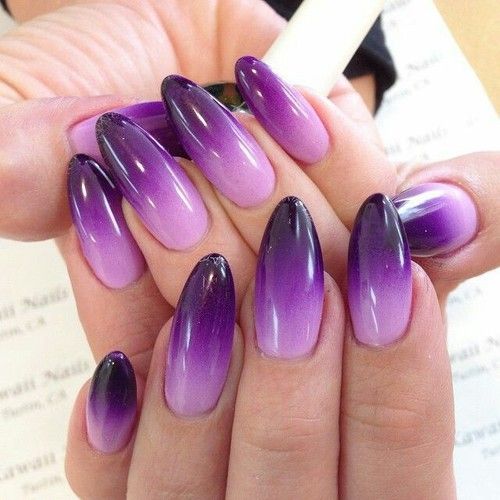 6. Gradient Purple Lavender Nails
Another variation of the gradient ombre you can easily do at home, this time on almond nails with high glossy finish.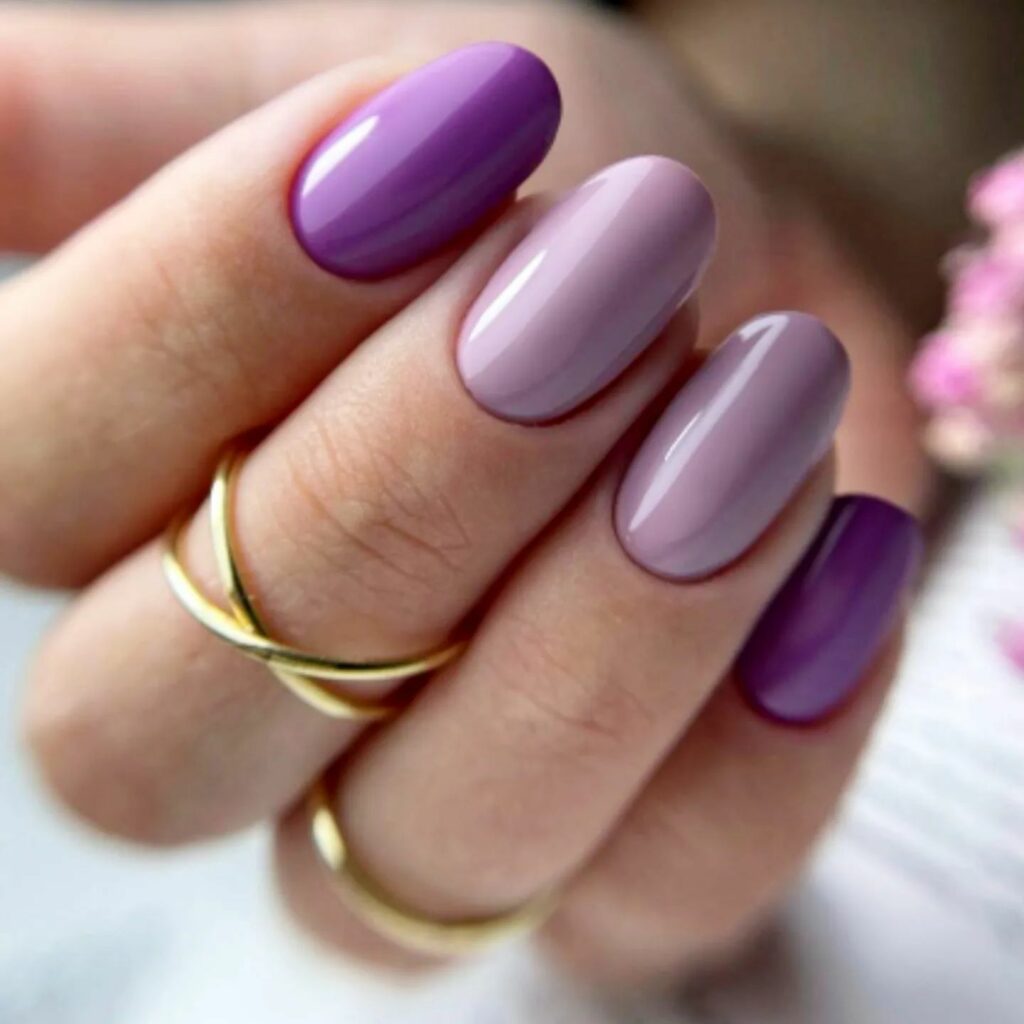 7. Coffin Ombre Purple Lavender Nails
Dark purple to lavender nails with an added glossy glitter finish.
8. Ombre Pink Lavender Nails
Fancy a bit of neon added to your ombre nails? This pink neon and lavender will work wonders! The perfect summer manicure.
9. Ombre Lavender Glitter Nails
Need nails for special occasion? Think glitter and more glitter!
10. Ombre Star Lavender Nails
Capture the essence of the night sky on your nails.
11. Lavender to Purple Ombre Nails
Need a lot of drama? Then this manicure is exactly what you're looking for.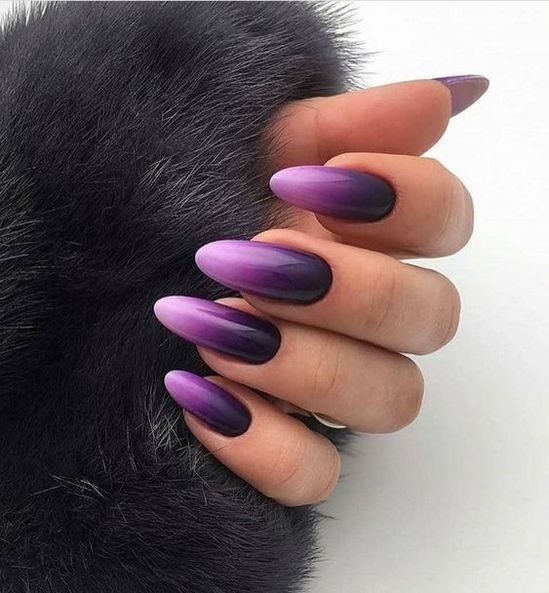 12. Lavender and Natural Ombre Nails
A simple and pretty update for coffin nails with delicate ombre effect and pretty butterfly nail stickers.
13. Lavender to Pink Ombre Nails
Reversed ombre with focus on pink instead of lavender color.
14. Lavender to Pink Ombre Gemstone Nails
Pretty ombre manicure elevated by the use of simple gemstones.
15. Lavender and Glitter Ombre Nails
Have fun with your nails and add some glitter, even if the occasion doesn't ask for it.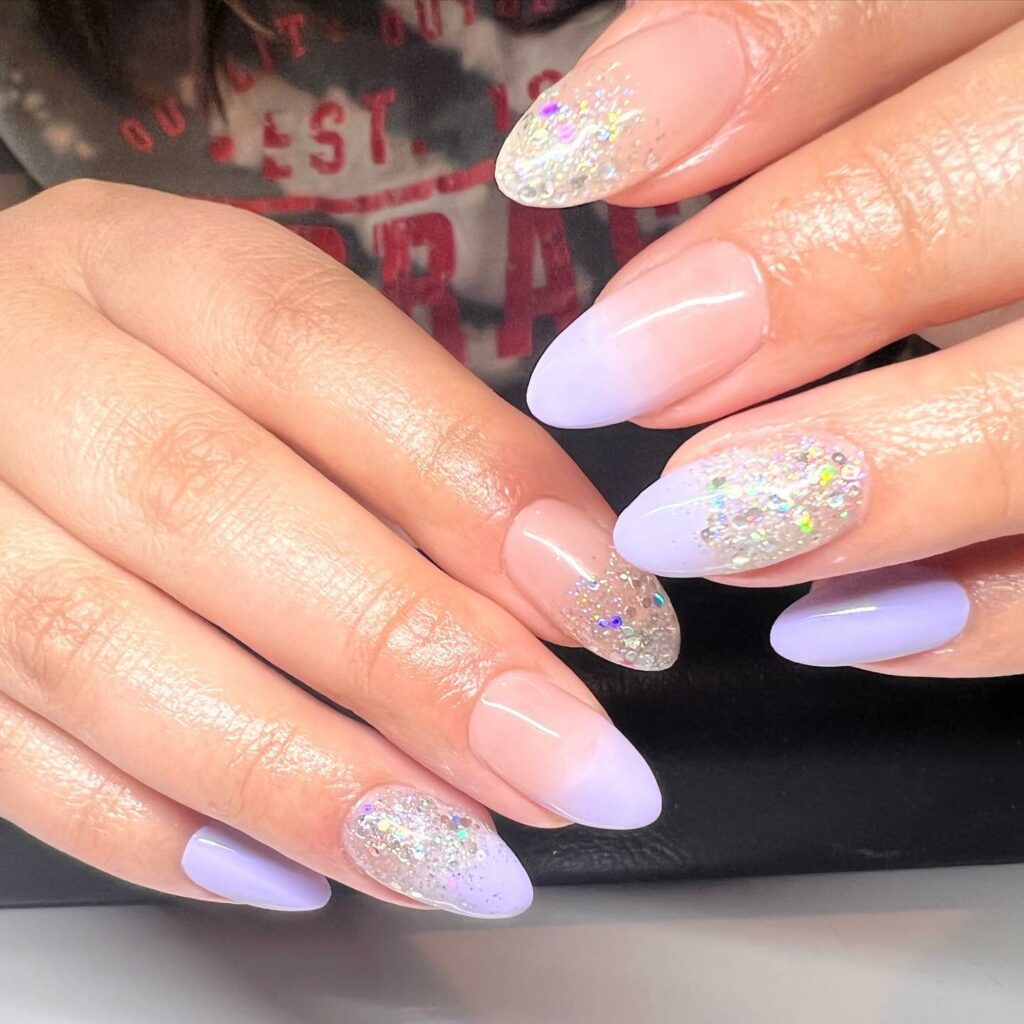 16. Ombre Lavender Nails with Grey
Ombre nails look fantastic and there are so many ways you can do them. In this case, when combined with dark grey color, it adds a bit of drama to the otherwise feminine looking manicure.
17. Almond Lavender Nails with Gemstones
Long almond shaped nails look stunning with a simple single tone nail polish, but you can make them go the extra mile by adding some small gemstones.