Are you looking for the perfect manicure in the darker shades of maroon or burgundy? In that case, you're at the right place!
Marroon French tip nails are not just popular for the fall season, but all year round as it's a look that fits almost any occasion and any nail shape or size. Whether you have long coffin nails, beautiful natural almond nails, very short nails or stiletto nails, you will find a design that fits you perfectly very easily.
With maroon manicures, there are so many different styles and trends to explore, so it's pretty much guaranteed you will find a look you will fall in love with. If you want to add a bit of variety or change your everyday look, simply add an additional color (stripes or outlines are popular), or for a special occasion, add a few gemstones for that extra sparkle the occasion needs!
In this article, we have collected nearly thirty best ideas for stylish and timeless nail designs for Maroon French tip nails, in a variety of styles and shown on different nail shapes and nail sizes. Check out the roundup of our favorite styles below and also trending nail polish shades for 2023 listed in the paragraph below!
Popular Shades of Maroon Nail Polish in 2023
What are the hottest shades to use for your maroon manicure? Here are just a few examples of nail polish shades that look just fabulous!
Rosewood maroon nail polish
Auburn maroon nail polish
Burgundy maroon nail polish
Crimson maroon nail polish
Ruby maroon nail polish
Amaranth maroon nail polish
Scarlet maroon nail polish
Vermilion maroon nail polish
Video Tutorial: Simple Maroon French Tips at Home
Would you like to try creating this look at home? Here is a simple step-by-step tutorial you can follow at home to create a beautiful and timeless manicure without having to visit a nail salon!
27+ Stylist Ideas for Maroon French Tip Nails
Are you ready to select the perfect design for your next manicure? Below is our roundup of nearly 30 super stylish manicure ideas with this gorgeous color, shown on a variety of different nail lengths and nail shapes.
If you need even more inspiration for your next manicure project or visit the nail salon, don't forget to check our Pinterest account where we are adding dozens of new nail design ideas daily.
1. Pink and Maroon French Tip Nails
2. Gold and Maroon French Tip Nails
3. Short Acrylic Maroon French Tip Nails
4. Dark Maroon French Tip Nails with 3D Nail Art
5. Silver and Maroon French Tip Mixed Manicure
6. Dark Maroon French Tip Nails
7. Maroon French Tip Coffin Nails
8. Minimalist Maroon French Tip Nails
9. Elegant Almond Shape Maroon French Tip Nails
10. Maroon French Tip Nails Manicure
11. Maroon French Tip Nails with Gems
12. Maroon French Tip Nails with Gold Nail Art
13. Winter Maroon French Tip Nails
14. Grey and Maroon French Tip Nails
15. Gems with Maroon French Tip Nails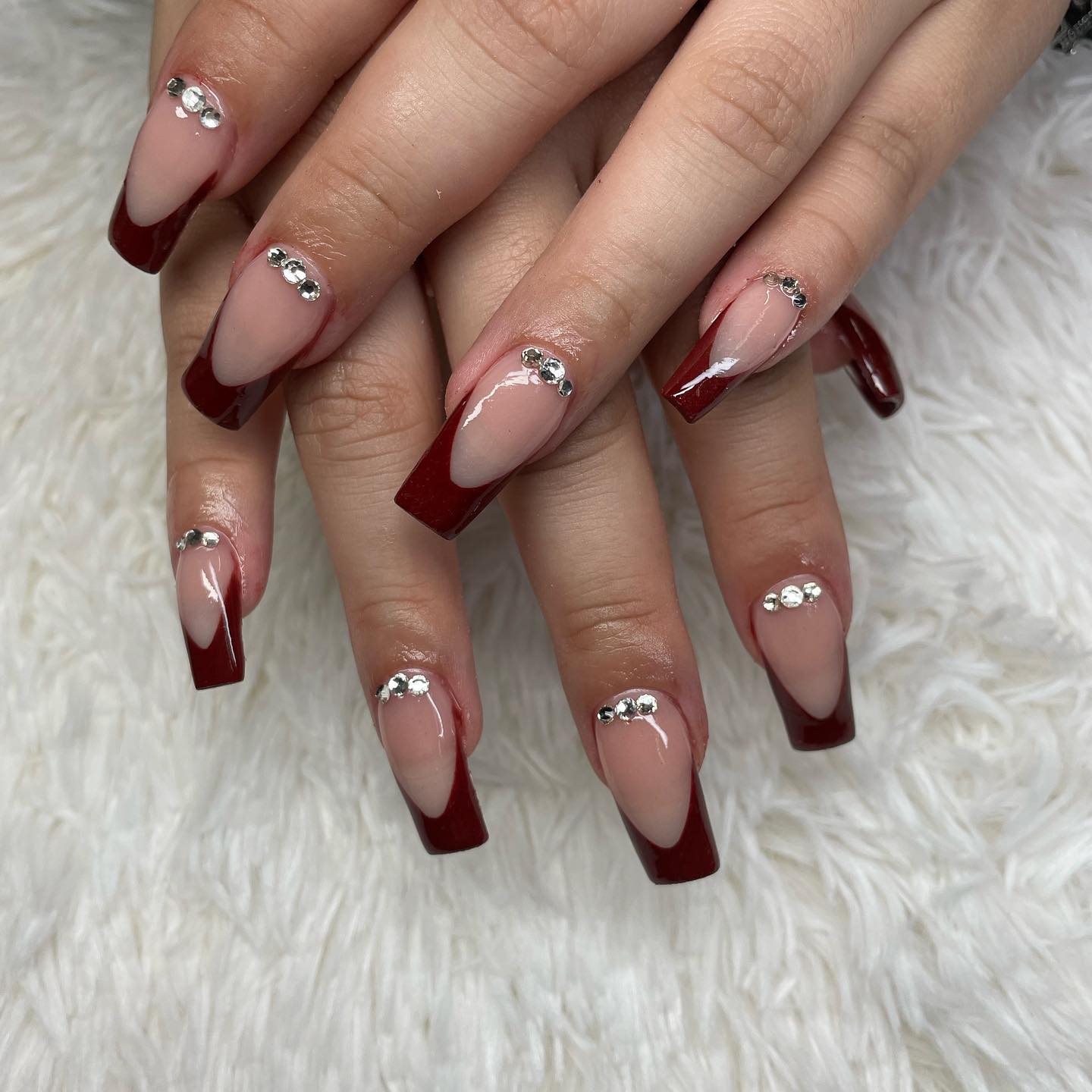 16. Gold Stripe with Maroon French Tip Nails
17. Mixed Design Silver and Maroon French Tip Nails
18. Extended Sharp Maroon French Tip Nails
19. XXL Maroon French Tip Nails
20. Long Coffin Nails with Maroon French Tips
21. Ombre Maroon French Tips
22. Gold Glitter Maroon French Tips
23. White Stripe Maroon French Tips
24. Multi Stripe Maroon French Tips
25. Round Ombre Maroon French Tips
26. Extended Maroon French Tips on Long Coffin Nails
27. Classic Coffin Maroon French Tips
28. Blue Half Moon with Maroon French Tips
29. Black Stars with Maroon French Tips