If you're dreaming about the perfect summer manicure, look no further than short red French tip nails! This looks is more often associated with pretty long nails, but in this article, we will show you that you can pull them off even with the shortest natural nails.
No matter what your nail shape might be, you can pull off short red French tip nails almost with any shape and nail length. Best of all?
With some practice and basic tools, you can easily do them at home without having to pay for a nail salon appointment each time!
In this article, you will find a short guide on how to do short red french tip nails at home, followed by a curated collection of the best styles we found on Instagram.
Let's dive in!
How to Do Short Red French Tip Nails
To transform your nails with this manicure you need a few simple steps to follow.
You need to start with freshly cleaned up and tidy nails, without any dust residue. Brush them off properly to make sure you have a clean and smooth surface to work with.
Select your base color – to achieve the classic look, natural beige color tones work the best, but you can experiment also with milky white nail polish or natural shades of light pink.
Once you're done with your base color and let it dry properly, its time to create the design.
To create the French tips, you would normally use stickers that would outline the area you need to cover in red. You need to be careful to place those on roughly the same spot on each nail, so the size of your red tips is the same on all your nails.
Once you've got that measured up and the nail stickers in place, you can grab your red nail polish and get creating. The longer the nails are, the longer you can usually go with the French tips too.
17 Best Short Red French Tip Nails
Below is our selection of the prettiest design ideas for red French tip nails – if you want to try a new twist on this manicure classic, we are sure you will find lots of designs you will love in this collection.
For more nail design inspiration, check our recommended articles below.
1. With Red Hearts
2. With Black Flower Nail Art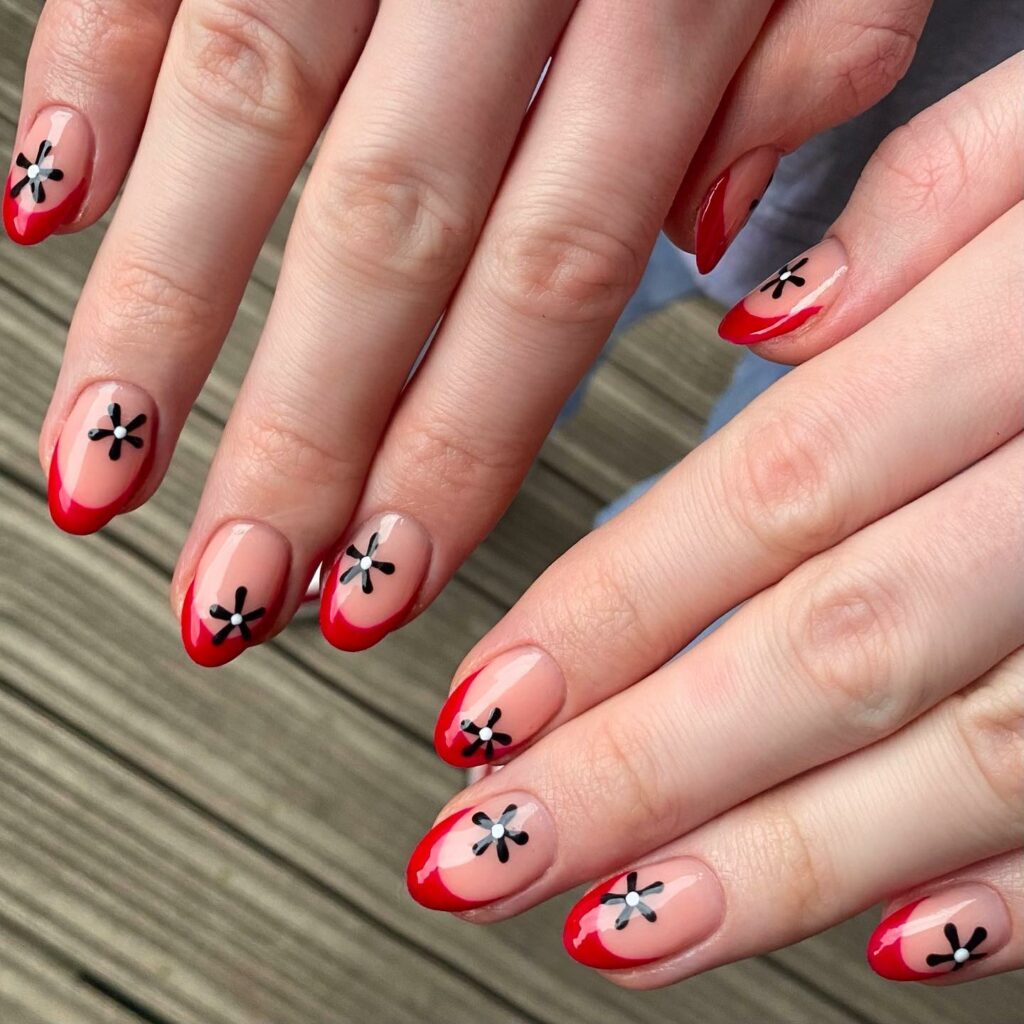 3. Mismatched Look in Dark Red
4. Bright Red Short French Tips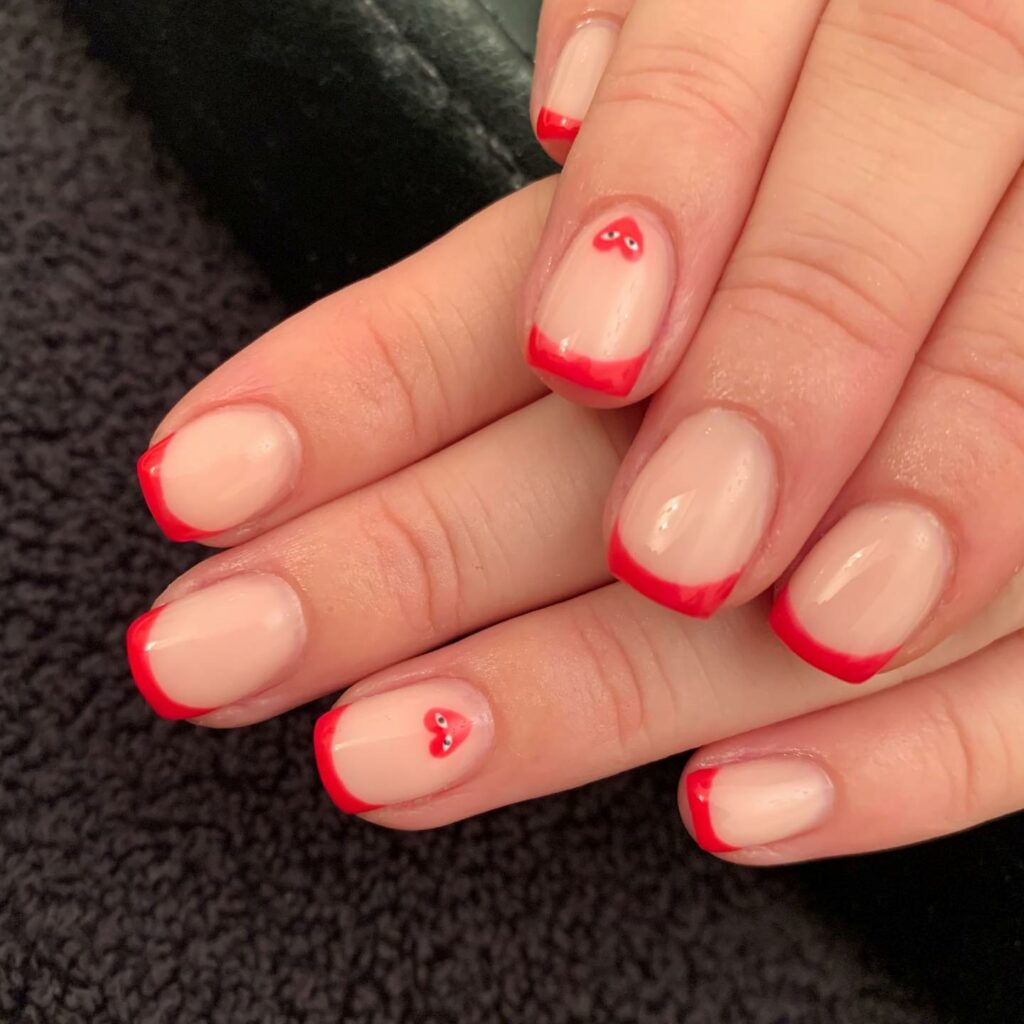 5. Valentine's Day Look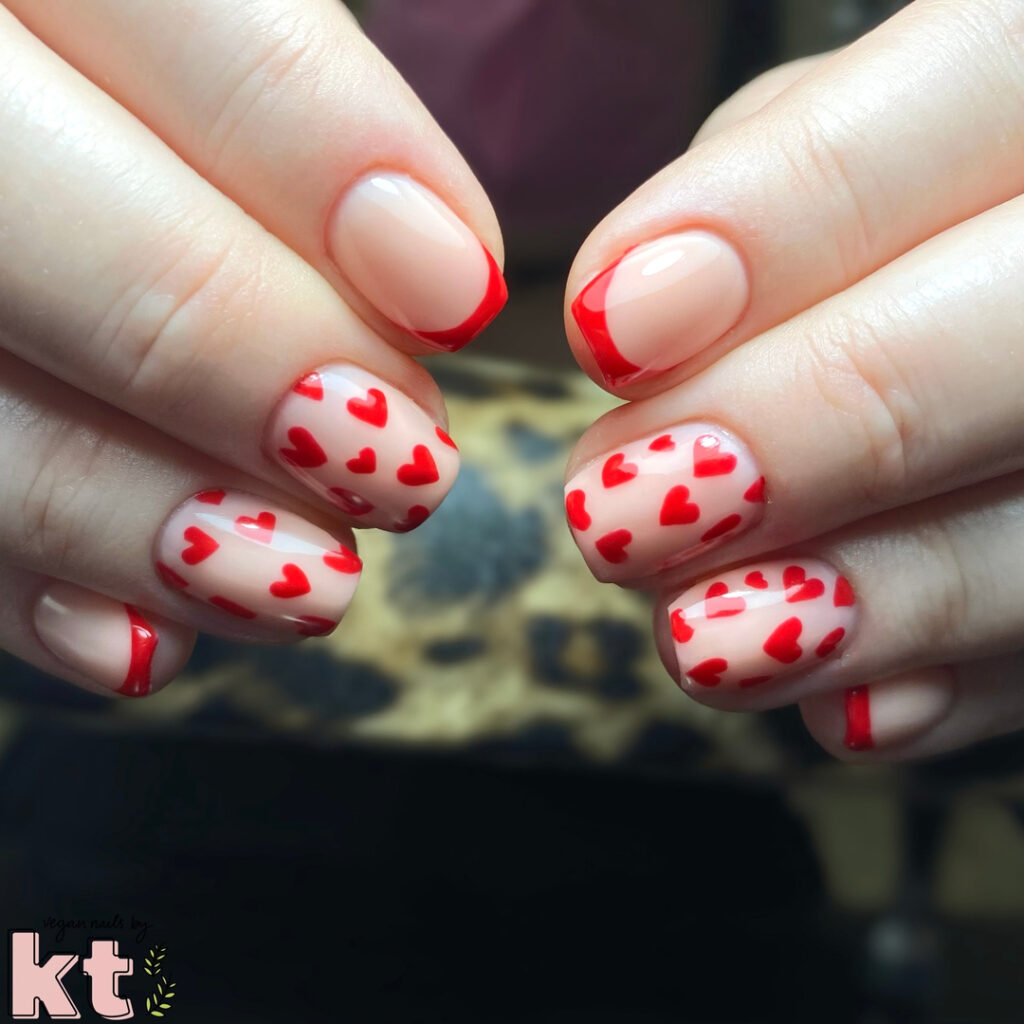 6. Classic Short Red French Tips
7. With Glitter Nail Polish Base
8. Pink and Red French Tips
9. Short Red French Tips with Gold Outline
10. Bright Red French Tips on Short Nails
11. Natural Nails with Red French Tips
12. Heart Details on Red French Tips
13. Almond Shaped Red French Tips
14. Super Short Nails with Red Tips
15. With a Heart Detail
16. Super Short Tips with Yellow Outline
17. Summer Red French Tips