Transform yourself into the Ice Queen with the pretties winter wonderland nails from this collection!
Our team has curated a collection of over 30 gorgeous winter wonderland nails to help you transform your manicure for the season.
Whether you're looking for something in the shade of blue, icy glittery silver nails, or a classic white manicure with pretty nail art, you will find plenty of options in our roundup.
Winter Wonderland Nails: Most Popular Color Options
So what colors are hot this year? If you would like to achieve the winter wonderland look, these are the color combinations you should stick to:
Muted Mauve
Moody Blue
Cobalt Blue
Silvery Chrome
Milky Blue Gray
Festive Olive Green
Glimmering Gold
Pearl White
Silvery Shimmer
All Shades of Blue
30+ Prettiest Winter Wonderland Nails Designs
Here are the prettiest winter wonderland nails we found online – for even more ideas and inspiration, visit our dedicated Pinterest board where you will find hundreds of pretty winter nail ideas.
Follow us on Pinterest to stay on top of the latest nail design and nail art trends!
1. Glitter Silver Reindeer and Snowflake Nails
Winter needs a little sparkle! Add some festive touch to your nails with silver glitter nail polish and don't forget about cute seasonal nail art too.
2. Snowflakes Nails
Snowflakes are one of the most popular winter nail design motives and they work really well for the winter wonderland theme too.
3. Silver Wonderland Nails
Add some depth to your nail design by using snowflakes motive in two different shades for added layers.
4. Ice Cuff and Blue Nails
Ice and snowflakes, the ultimate symbols of winter are perfectly captured in this icy manicure.
5. Icy Blue Nails
You almost feel cold looking at these pretty nails.
6. Ice Cuf Silver Blue Naild
Glittering reflection from the ice dripping down perfectly captured in this manicure.
7. Frozen Blue Nails
Make your nails looks like frozen lakes reflecting the daylight.
8. Deep Blue Winter Sky Nails
Capture the essence of the dark winter skies with the added shine that comes from the stars.
9. Matt Blue with Sparkling White
The perfect manicure fit for a Snow Queen with royal blue and pearly white.
10. Ice Queen Nails
This manicure looks like it's been cut out straight from a fairy tale!
11. Navy Blue with Glitter
Need to keep it simple? Stick to navy blue and silver glitter nail polish.
12. Snowy Nails
Baby blue nails that capture the essence of the falling snow and frozen landscape.
13. Silver Shine with Gems
Need some bling? Glitter and high shine finish nail polish will do the job.
14. Metallic Silver
Metalic foil nails combined with silver glitter and grey nail polish are the perfect manicure for a special event.
15. Sweater Knit Accent
Sweater nails are super popular each winter and they fit right into the winter wonderland theme.
16. Snowy White Nails
Keep it angelic and simple.
17. Silver Glitter Nails
Another take on silver and grey nails – how pretty are they?
18. White with Gems
Plenty of sparkle and shine on these coffin nails.
19. Winter Wonderland Nails in White
Blending in with the snow!
20. Grey Glitter
Keep it simple and classy with glittery silver nails on grey background.
21. Nude with Golden Parts
Stylish gold dusted nails fit for a Snow Queen.
22. Shades of Grey with Glitter
Grey nails can look as pretty and festive as these ones!
23. White and Silver Nails
Pretty elegant white manicure with the addition of a silver foil.
24. Nude with Glitter
Simple almond nails elevated by a delicate silver stripe. That's all you need for a pretty and elegant winter inspired manicure.
25. White and Copper Nails
Add a bit of shine and warmth to your winter wonderland manicure with pretty copper highglihts that will reflect the light beautifully.
26. Grey Snowflakes with Gems
Winter landcaspe captured on your nails.
27. Snowflake Gold Christmas Nails
The prettiest winter colors – white, baby pink and gold create the most wonderful winter wonderland manicure.
28. Nude Nails With Clear Blue Tips
Get inspired by these ice kissed French tips with beautiful delicate white snowflakes.
29. Navy Winter Wonderland Nails
Get a custom nail art for each nails just like in this pretty navy manicure.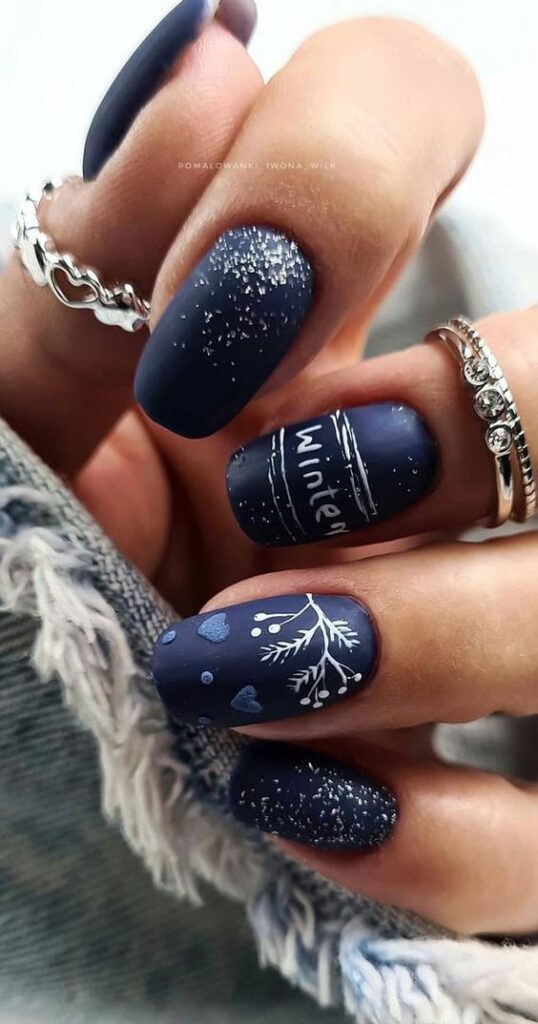 30. Snowflake Silver and Blue Holiday Nails
White snowflakes look especially sparkly and crips on this royal blue nail polish.
31. Blue and Glitter Swirl Holiday Nails
Pretty and minimalist nails for those who like to keep it classy for the holidays.
32. Snowflake Silver Christmas Nails
Statement nail with a snowflake decorated with tiny rhinestones, complimented by silver glitter nail polish.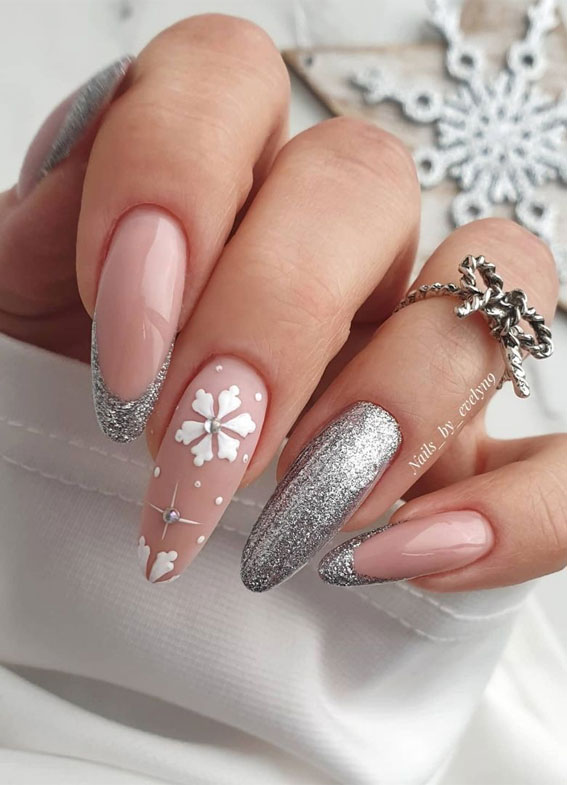 33. Black and Glitter Chevron Tips
A pretty and a very unique take on a winter wonderland manicure that doesn't have to be just all about white or blue.
34. Pink with Glitter Snowflakes
Color the town pink!
35. Glitter French & Ombre Glitter Cuff Nails
A very feminine take on a winder wonderland nail design.