Are you looking to update your coffin nails? Do you need some ideas for your next nail salon appointment? In that case, you came to the right place!
Our team has compiled a curated selection of 33 pretty ideas for coffin emerald green nails that cover a range of styles and nail decor techniques. Whether you like something simple with a bit of personality, or want to go all in on emerald green gemstones, there are plenty of examples for each option.
The coffin nail shape is the perfect white canvas to transform into a piece of art, using the right shade of green and decorating the nails with gemstones. Emerald green is one of the most popular colors for nail gemstones as it really stands out, especially on beige or neutral-colored nails.
Without further delay, we have included the roundup of the 33 best styles below and shared some trending nail design trends for 2023. Get inspired and choose your new favorite manicure today!
Coffin Emerald Green Nails Trends for 2023
Emerald colored gemstones – gemstones are everywhere and for a good reason, they're simply fabulous! Whether you're adding just a small bling on a single nail, or going all in with the whole treasure trove, you can't go wrong with featuring this stunning color in your gemstone selection.
Emerald glitter nail polish – whether special occasion calls for it or not, glitter nail polish rules the world when it comes to pretty manicure. Best paired with other nail design styles and simple straightforward nail art.
French tips variations – even on coffin nails you can go will and experiment with a few variations of French tips. The article pictures below will show you plenty of ideas on how its done.
Emerald marble – emerald green marble effect looks especially beautiful on coffin nails with so much space to play with!
Mixed nail design – a repeating theme you will see in the nail design round up below is the love of mismatched manicures, in all styles and shapes.
Floral emerald nails – florals are making an appearance on coffin nails in color of emerald green or white.
Prettiest Coffin Emerald Green Nails for Your Inspiration
Are you heading to the nail salon soon? Is your friend coming over to do your manicure? In that case, this curated collection of the prettiest coffin emerald green nails will come in handy!
Save your favorites to your Pinterest account and don't forget to check out our dedicated Pinterest board for emerald green nails while you're there. Follow our Pinterest profile to see and keep up with the latest nail design trends and styles.
1. French Tips & Glitter
Simple single tone coffin nails with French tips and shiny glitter nail polish.
2. Emerald Gemstones with White Ombre
Gemstones look the best on a neutral base nail polish, such as in this case with sparkling white option.
3. White & Emerald Coffin Nails
Super contrast manicure with emerald green glitter nail sand simple white nails with floral element.
4. Emerald Marble French Tips
Want to maximize your French tips? This is a way to go! This pretty manicure combines French tips with marble nail art and a touch of gold.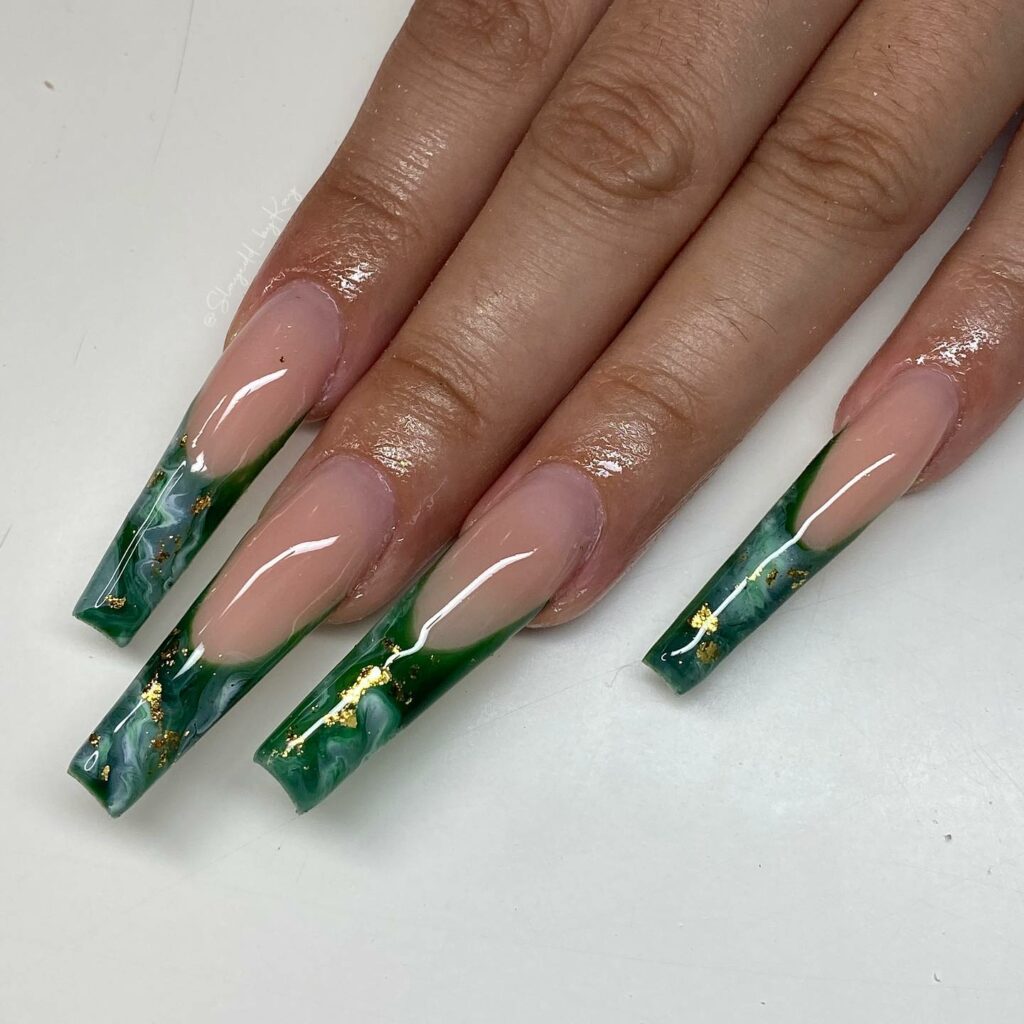 5. Religious Theme Emerald Coffin Nails
Extra long coffin nails decorated in a religious theme.
6. Christmas Emerald Coffin Nails
Festive nails take a turn for green.
7. Summer Emerald Coffin Nails
Pretty summer manicure with emerald green and yellow.
8. Full Color & Gemstone Coffin Nails
Combine two styles to achieve a high contrast look with plenty of sparkle.
9. Shades of Green
The fifty shades of green edition on shorter coffin nails.
10. Beige Coffin Nails with Emerald Gemstones
Very sophisticated version of the green gemstone nails on nude nail polish which makes the green pop even more.
11. Mismatched Coffin Nails
Another mismatched look this time with high gloss confetti nail polish, ombre nail, French tip and gemstones.
12. White French Tips with Emerald Gemstones
Pretty contrasting manicure with emerald green and white.
13. Floral Theme Emerald Nails
Florals in green is the match made in heaven for this manicure.
14. Natural Ombre with Gemstones
Pretty natural ombre nails matched perfectly with emerald gemstones on a beige coffin nail.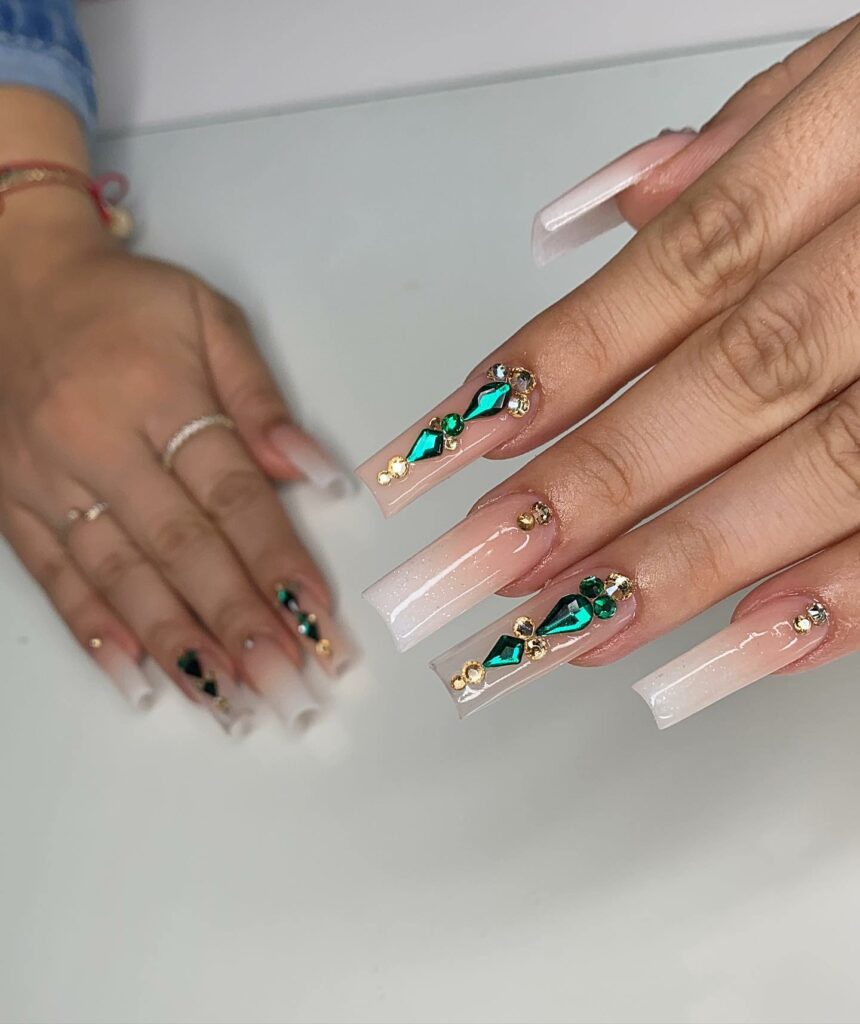 15. Mismatched French Tips
Two styles of French tips blended beautifully with a gemstone decorated nail.
16. White and Green Coffin Nail Manicure
If you want the gemstones to take the center stage, this is one of the prettiest options to consider.
17. Black and Green Coffin Nails
Simple and easy manicure you can easily do yourself – back and green nails elevated with a touch of gold foil.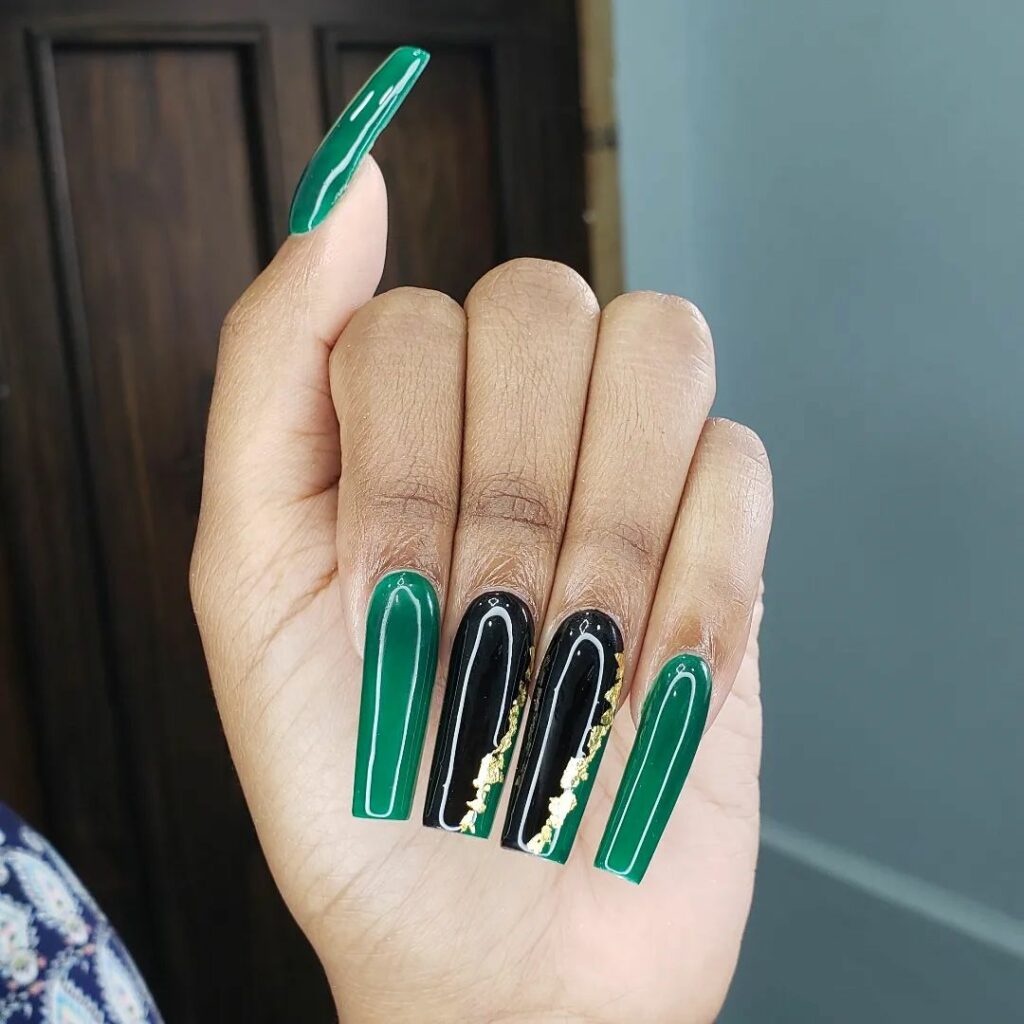 18. Gold & Emerald Green Coffin Nails
Jewelry store window captured on your nails.
19. Emerald Green with Gold Nail Art
Get creative and add some artistic elements on your emerald nails.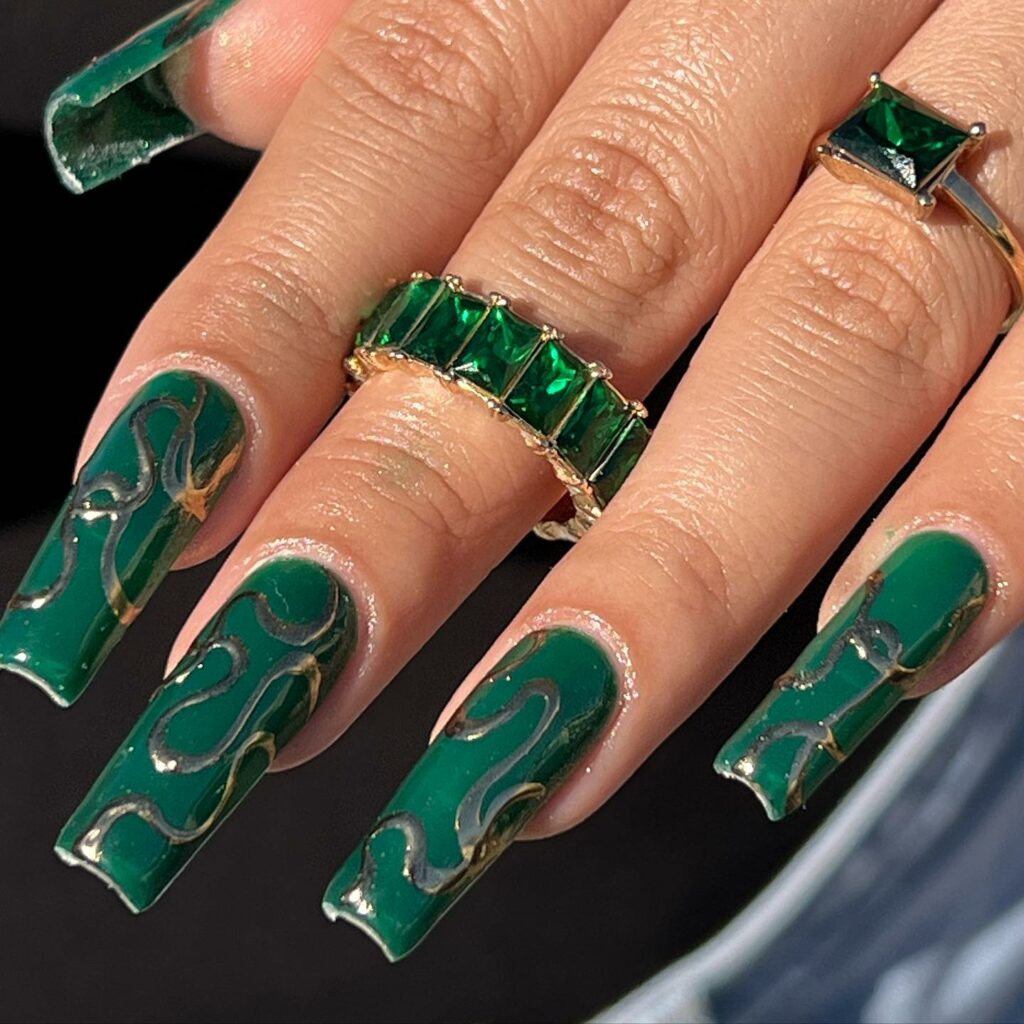 20. Decorated French Nail Tips
Big and bold French tips with gemstones and shiny emerald nail polish.
21. Glitter Emerald French Tips
Stylish emerald coffin nails with a floral detail.
22. Super Long Coffin Nails with Emerald Green
Want to go full length? This look will make your coffin nails look even longer.
23. With Gold Nail Art
Custom gold nail art on simple emerald nails.
24. White & Emerald Green French Tips
Adding a little structural element on these nails will make them pop even more.
25. Gemstone Treasure Nails
All the treasures of the world captured in one manicure.
26. Gemstone Nails with Sparkly Base
Keep it simple and classy with matching gemstone nails.
27. French Tips & Marble Nails
Marble meets French tips on shorter coffin nails.
28. French Tips & Bridal Inspired Nails
Bridal coffin nails meet emerald green.
29. Natural Short Coffin Nails
One of the prettiest looks for short coffin nails with green gemstones.
30. Glitter & Marble Nails
Big and bold with marble naisl and full glitter nail polish.
31. Work of Art Marble Nails
Frame your nails as the work of art they are.
32. Delicate White Emerald Coffin Nails
Bridal inspired delicate feminine manicure for shorter coffin nails.
33. Pretty in White
Light pink is an interesting combination for these pretty emerald gemstones. What do you think about this one?