Are you dreaming about heavenly lavender nails?
In that case, you're in the right place! We have curated a selection of 40 most gorgeous lavender nail ideas which you can take for your next trip to the nail salon!
Lavender is one of the most loved colors, not just for fashion but also for nails. It's so easy to wear, whether you need a manicure for work, a special occasion, or to attend a wedding or a birthday party. The color works really well with a variety of other colors like grey, white, silver, black or even gold. It's a color that looks stylish all year round and easy to mix and match with other styles.
With lavender nails, there are so many ways you can make them stand out and add variation to your nails.
Below we have rounded up some of the most popular trends for lavender nail ideas, along with a couple of video tutorials, and finally our roundup of nail design ideas to give you plenty of inspiration for your next trip to the nail salon.
Happy browsing!
Current Trends for Lavender Nails
Lavender nails are super popular for the spring season, but you can also wear them all year round
Ombre nails are a huge hit, and with the delicate shade of lavender they look super feminine
Lavender or light purple color works really well for marble nail design
French tips in lavender color are everywhere, and for a good reason – they look super sophisticated in this color
Gradient nails in three to five shades of lavender to dark purple look fantastic, and you can easily do them at home without bothering with the trip to the nail salon
Best Video Tutorials: Lavender Nail Ideas
Would you like to try creating some lavender nail art at home? We have selected two simple video tutorials that will help you achieve just that!
Pretty lavender nail art tutorial by Nail Revolutions.
Quick and easy nail art tutorial by Purple Nails.
40 Best Lavender Nail Ideas
Below is our curated collection of the 40 best lavender nail designs and nail art from Instagram.
If you're looking for even more inspiration, you will find lots more ideas in our lavender nails Pinterest board – check it out!
1. Lavender Nail Tips with Gemstones
Simple French tips on almond-shaped nails are elevated by the use of delicate pearl-like gemstones.
2. Dotted Lavender Nails with Flowers
If you want something a little more delicate and girly, adding some flowers and dots on your lavender manicure is a great choice.
3. Ombre Lavender Nails with Grey
Ombre nails look fantastic and there are so many ways you can do them. In this case, when combined with dark grey color, it adds a bit of drama to the otherwise feminine looking manicure.
4. Mountain Peak Ombre Lavender Nails
The mountain peak nail shape looks spectacular in a single tone nail polish color, but even more elevated if you use a subtle ombre effect on the nails.
5. Black and Lavender Nails with Star Nail Art
Special occasion calling for something extra? Get inspired by this night sky nail art in black and lavender color.
6. Light Lavender Nails
Even shorter nails can look really pretty in a single tone of lavender color.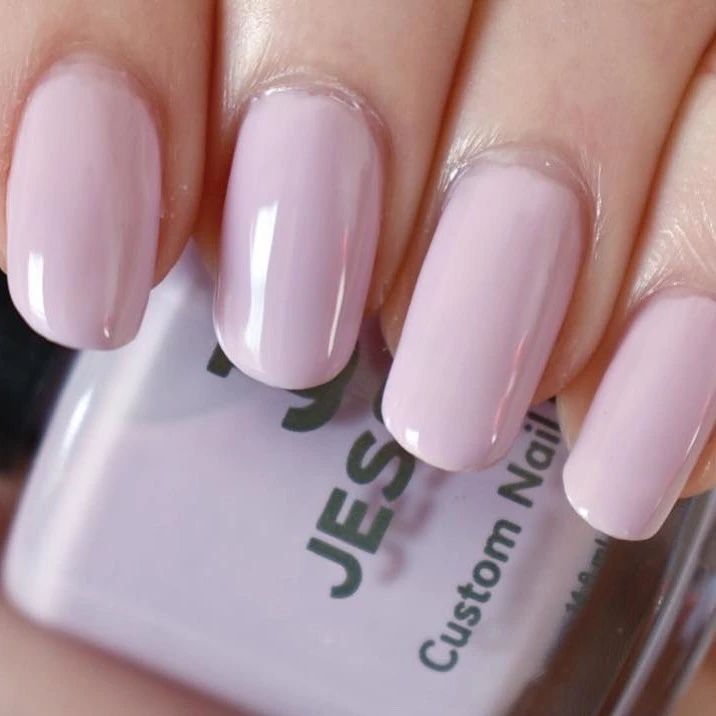 7. Lavender Nail Tips in Two Tones
Mismatched look with two shades of lavender color and two design techniques.
8. Lavender Nail Tips with Highlight
An original take on the traditional French tips, with a dark purple highlight to add more interest to the simple nails.
9. Lavender Nails with Silver Nail Art
Add that special touch to your nail design if the occasion requires it – lavender pairs really well with silver, be it glittery nail polish or some nail art as in this case.
10. Lavender Nails with Gold Nail Art
Now this may not be for everyone, but if you need something that makes you stand out from the crowd, this manicure will be a good fit.
11. Lavender Nails with Custom Nail Art
Reveal your inner artist with this beautiful art inspired manicure in gorgeous shades of lavender and neutral warm beige and peach colors.
12. Lavender Glittery Nail Tips
Add some sparkle to your French tips with some glittery lavender nail polish.
13. Lavender Marble Nails
Marble lavender nails mixed with grey and white colors.
14. Mismatched Lavender French Tips
Pretty and elegant, French tips in mismatched lavender design.
15. Lavender Glitter Nails
Fancy doing your manicure at home? Adding this silver glitter nail polish on top of your lavender manicure is super easy and your nails will be ready for that special occasion in no time.
16. Lavender Gemstone Nails
Add that extra spark to your simple nails with some gemstones. Don't overdo it.
17. Lavender Nail Idea for Short Nails
Even short nails look super pretty when decorated with this custom white and lavender nail art.
18. Dark Lavender Nails with Glitter Nail Art
With coffin nails, you have much more space to use for your nail art, and they are the perfect nail shape to use for intricate nail art, like in this case.
19. Light Lavender Nail Color
Light lavender nail polish looks fantastic especially when combined with darker skin color or tanned hands.
20. Lavender Coffin Nails with Flowers
Beautiful nails with delicate French tips, glitter nail polish and flower details that would work well also as a wedding manicure.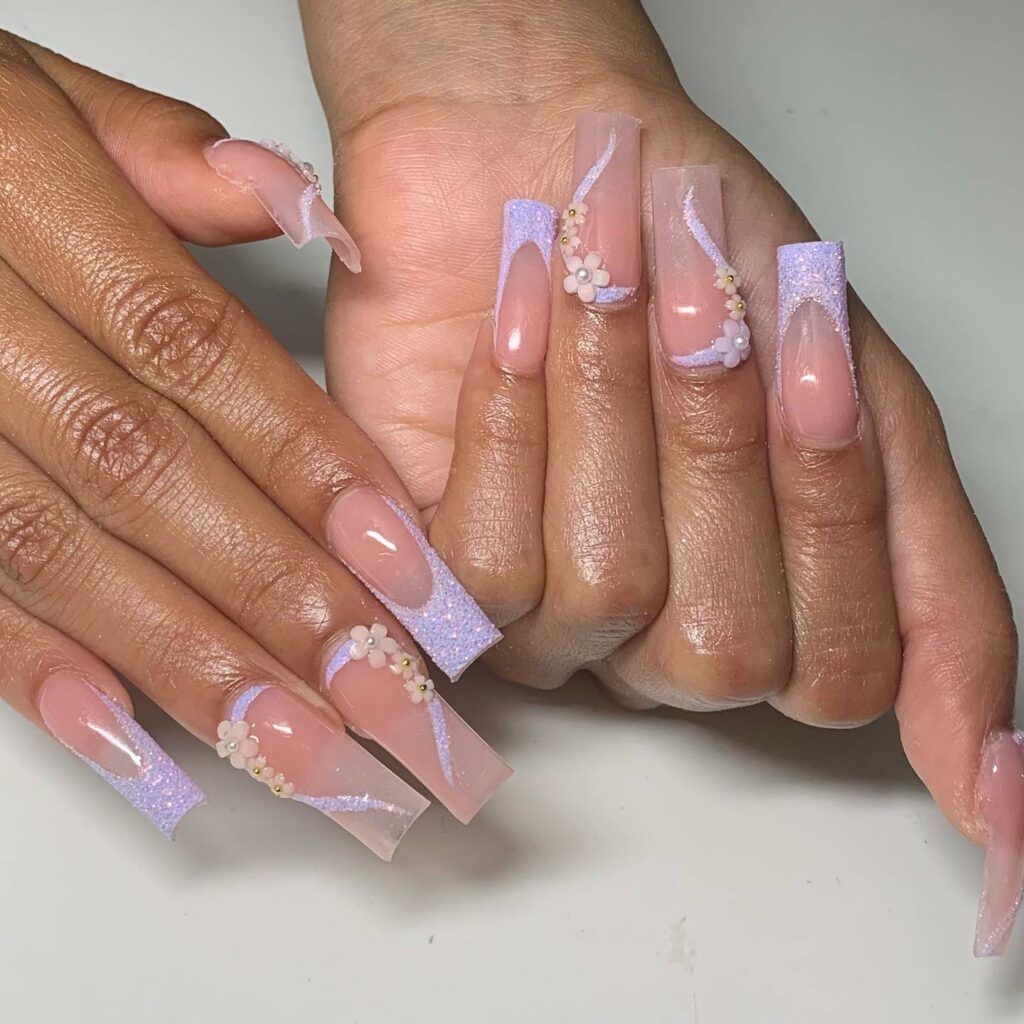 21. Lavender Almond Nail Tips
A new take on a gradient nail design with a variation of four different colors.
22. Lavender Marble Nails
Custom marble art with shades of dark grey, white and purple.
23. Lavender Gemstone Nail Art
Can't pick one look which you like the most? Get them all! Glitter, gemstones and flowers look super stylish and not over the top in this pretty manicure.
24. Lavender and Silver Nail Art
Give your nails a bit of sparkle with glittery silver nail polish and add some more interest with a floral design.
25. Ombre Lavender French Tips
Some of the pretties French tips on almond nails we've seen around.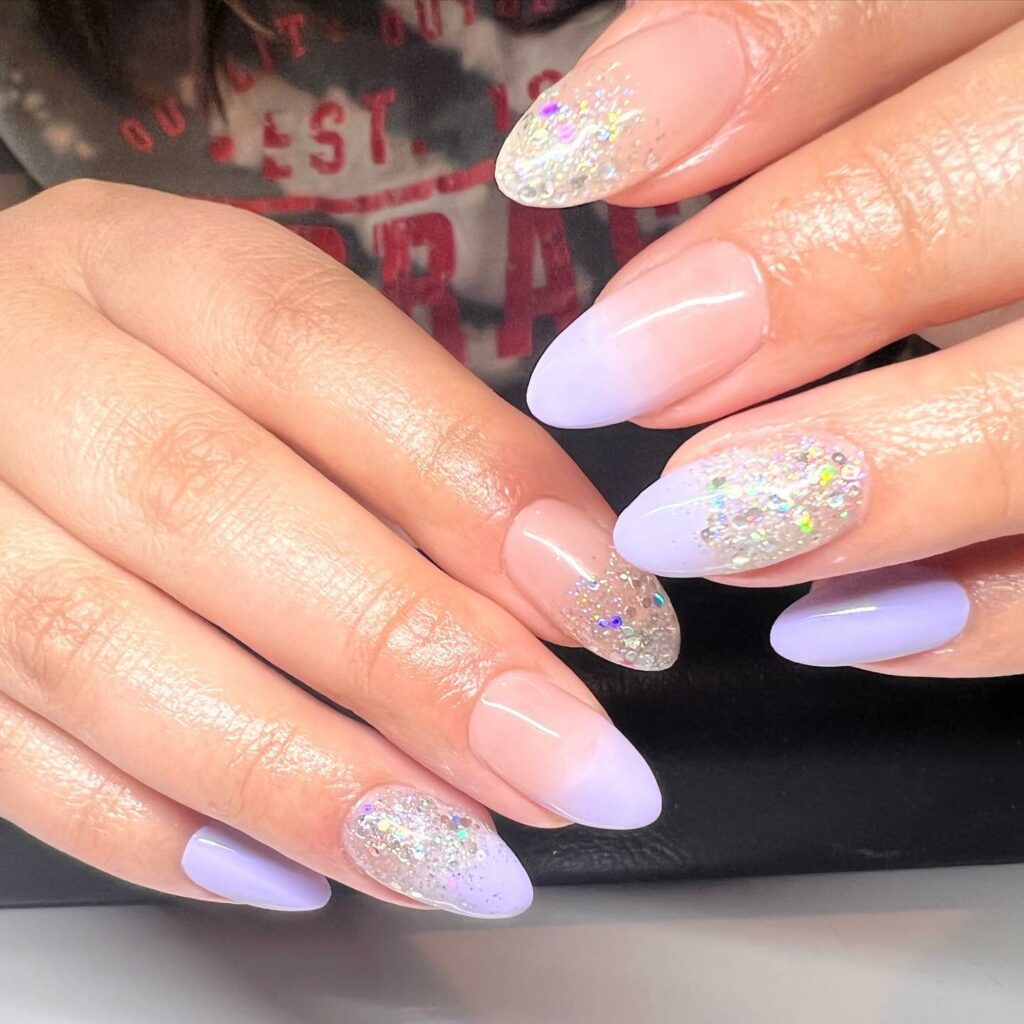 26. Statement Single Nail
Adding a custom design for a single nail is the easiest way to make your manicure look on trend, without having to stick to the same intricate detail for all your nails.
27. Black and Lavender Manicure
Black color pairs surprisingly well with dark purple and lavender, such as in this case.
28. Intricate Lavender and Beige Nail Art
A skilled nail artist will be able to recreate this work of art in beautiful shades of beige, white and lavender.
29. 5 Color Lavender Nails
The gradient effect that's easy to achieve at home – simply choose a shade of the same color nail polish and paint each nail.
30. Elegant French Tips in Light Shade of Lavender
Beautiful and timeless manicure for any occasion.
31. Glitter & Marble Nails
Do you love all of the trends, not just one? That shouldn't stop you from using them on your nails. Glittery nail polish, simple single nail color and marble nails combine wonderfully as part of a cohesive look.
32. Statement White Nail
Adding more contrast to your lavender nails is easy – white color works really well for this purpose.
33. Statement Glitter Nail
Silver glitter and gemstones work really well with lavender color nail polish.
34. Custom Rhinestone Art
Fancy occasion? Add fancy manicure to your to do list!
35. Floral Motive on Lavender Nails
Another take on the floral motive mixed with lavender nails.
36. Mountain Peak Nails in Lavender and Pink
A beautiful blend of two colors that look completely effortless – lavender and pink blend well in a gradient, or French tips look as in this case.
37. Lavender and Pink Nails
Another way to use these two colors is a simple nail art as in here.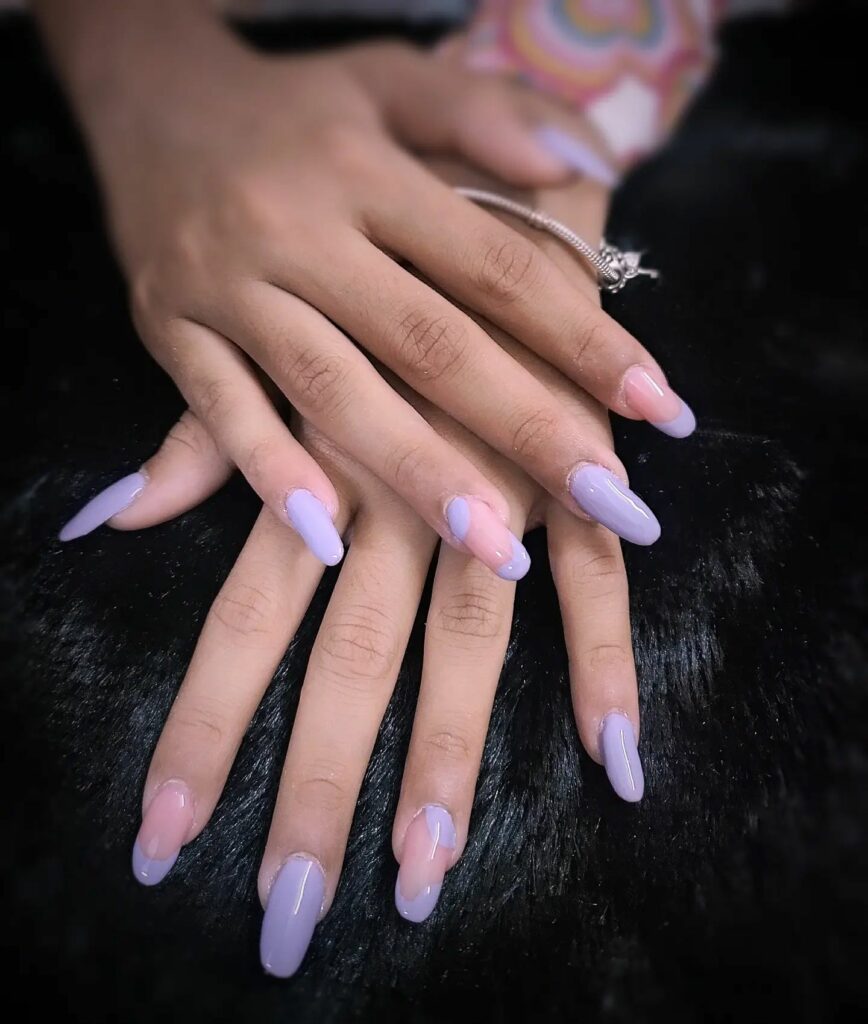 38. Lavender Mismatched Nails
Treat each nail as the blank canvas to create new art – a skilled nail artist will be able to recommend custom nail design that will work together really well.
39. Over the Top Lavender Nails
While this may not be for everyone, if you're really looking for nails that demand attention, this is one of the best looks we've found.
40. Coffin Nail French Tips in Lavender Gradient
Ombre gradient is not just for nails, but looks spectacular even on French nail tips (and coffin nail shape!).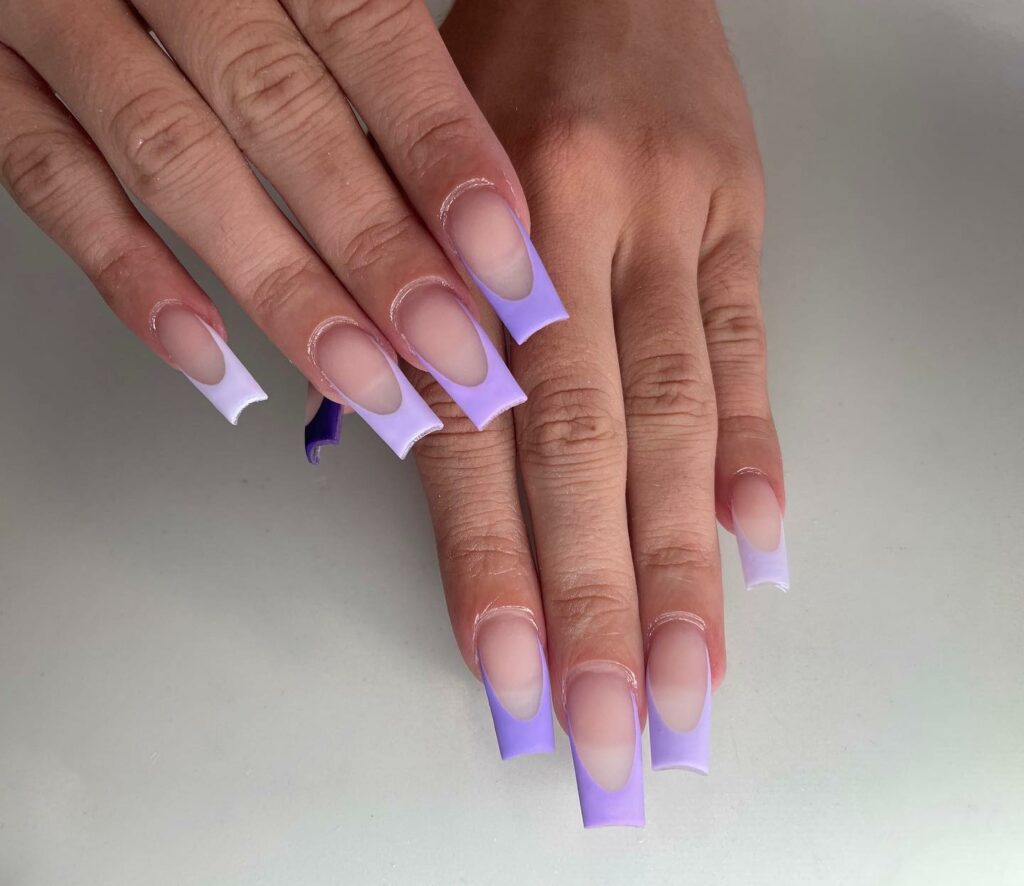 41. Simple Lavender Manicure
Beauty in simplicity.